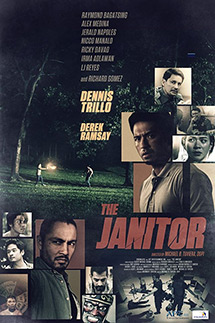 The Janitor seems to be directly inspired by last year's OTJ, telling another tale of a hitman caught up in the machinations of people in the position of power. But though the movie puts forth a few interesting ideas, it turns out that The Janitor just doesn't have the sophistication of the previous film. It gets too wrapped up in the convolutions of a nonsensical plot that makes its hero out to be blind at best and incompetent at worst.
Cris (Dennis Trillo) used to be a policeman, but an ugly incident got him bounced off the force. Now he's working as an instructor for security guard trainees. But he's also doing some shadier work for his former superior Manapat (Richard Gomez), on the hopes that his efforts will lead to reinstatement. His latest assignment concerns the perpetrators of a violent bank robbery. Cris is tasked with tracking down and killing the suspects. But as Cris goes about his deadly business, he comes to realize that the details just aren't adding up.
The most intriguing portions of this film spend time with the main character's targets. The movie portrays a world where no one can be easily defined as a hero or a villain, a society so inherently corrupted that crime is just an inherent part of life. So being a policeman necessitates doing terrible things, and being a criminal doesn't mean that one doesn't have a capacity for kindness. But this powerful idea is ultimately wrapped up in an overly plotty mystery that doesn't make a whole deal of sense. The film lets on pretty early that Cris' task isn't on the up-and-up, but it only makes this fact matter in the waning moments of the movie.
The hero is slower than the rest of us. He's playing catch up, constantly being handed clues but unable to put the picture together. The script has the main character staring quizzically at direct proof that there is something untoward going on, but he isn't given the ability to act on that information. He shrugs instead, and carries out his work as if he didn't know anything. It gets pretty absurd, the movie stretching itself to an unsustainable length as it puts off its big reveals.
The film does have a surplus of style, though it's not always used well. There is a chase set piece in the film that seems to lose track of the time of day, and outright ignores the logic of the location. The film gets a lot out of its actors. Dennis Trillo is used really well in this movie, the film tapping into the actor's inherent intensity. Derek Ramsay goes a bit overboard with his character, but it kind of fits within the milieu. Better is Raymond Bagatsing, whose reserve adds intriguing layers to his character. Richard Gomez and Ricky Davao add plenty of flavor to the proceedings.
The Janitor might have been too intent on appearing cool. To its credit, it is able to mostly generate that effect, displaying a certain panache that makes it distinct from a lot of other films. But in that pursuit, the film seems to forget to make sense. Whatever commentary the film tries to build is ultimately squandered as it spirals into its morass of nonsense. And whatever sense of coolness it generates is lost as it emerges that the hero is too slow to put things together. It's hard to take things seriously when its hero always seems two steps behind.
Our weekly highlights and entertainment guides, straight to your inbox
My Rating: