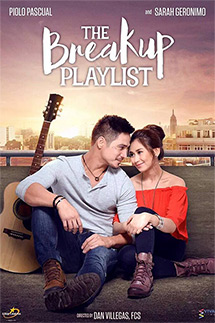 The Breakup Playlist is kind of remarkable for a contemporary mainstream romantic film. The genre, over the last few years, has really settled into a particular form. They are all pretty much films that portrayed outsized realities, with big drama, big comedy, and big romantic set pieces that tend to involve big acts intended to prove one's love. This film works within the same context, but brings it down to a more grounded level. There are still extraneous elements to this movie, and it struggles to earn its resolution. But its relative smallness gives it real resonance. This movie hits when it counts.
Trixie and Gino ( Sarah Geronimo and Piolo Pascual) met in 2009. At the time, Trixie was in law school, but Gino convinced her to form a band with him. The film traces their time together as they write songs, perform, and fall in love in the process. But their success as a band brings Gino's long held insecurities to the surface, and their relationship suffers as a consequence. In present day, the two are given the opportunity to reunite, but years of sore feelings have made things incredibly difficult for them.
The story actually begins with their breakup, and then zooms ahead to present day where they are given the offer to get the band back together. The film jumps around the timeline, forgoing any ambiguity about where the characters are heading, and instead focusing on showing the audience what has been lost. The early scenes of Gino pursuing Trixie are pretty charming, and this turns into something more substantial as the characters get into the palpable chemistry that comes with singing together.
Music is always an easy way to convey feeling in cinema, and there is rarely anything more inherently romantic than two people staring at each other while they sing a heartfelt song. And the film seems keenly aware of this fact. The songs don't always sound right, but the direction takes full advantage of the emotion that comes implicit in these scenes. There's a lot of baggage that comes with producing a mainstream romantic picture, and the movie can't avoid those little hiccups. But when the characters are singing, it hardly matters. The film adds a shade of low-key realism to the typical Star aesthetic, and that pays off in spades when the music starts and the world suddenly becomes something more magical.
The movie does struggle to find a resolution. Its introduction of conflict feels logical on a narrative level, but it doesn't quite translate on screen. The characters end up feeling a tad bipolar, their rapid shifts of mood and disposition making it difficult to hold on to the story. Gino shifts wildly between being a swaggering rock star and a simpering, lovesick puppy. It doesn't feel entirely true to the character, and the actors struggle a bit as a result. Piolo Pascual is better as a well-intentioned charmer than the angsty rocker. Similarly, Sarah Geronimo is much more compelling as the shy dreamer than the conflicted girlfriend. It all runs too quickly in the end, and though the emotions are still comprehensible, they don't feel entirely earned.
Through it all, though, The Breakup Playlist manages to feel like a very different kind of Star Cinema movie. It still has to get through a lot of the same baggage: the imposition of family issues, product placement, and the limitations with working with stars of a certain caliber. But the film, with its low-key tone and general focus on emotional content, handles these obstacles with relative aplomb. It doesn't quite land in the end, but it finds plenty of beauty in its middle portions, when it's all about two people learning what it is to make beautiful music together.
My Rating: