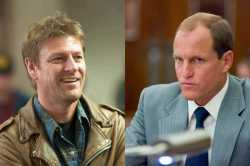 Warner Bros. Pictures' new inspirational drama "North Country" is undoubtedly a woman-empowering film, but this doesn't discount the fact that it has redeeming male characters. These men of integrity are played by Sean Bean ("The Lord of the Rings" trilogy, "Troy") and Woody Harrelson ("After the Sunset").
"North Country" is the story of single mother Josey Aimes (Academy Award-winner Charlize Theron who receives her second Oscar nomination for her performance in the film) who rallies her female co-workers to rise above the unfair treatment they face at a Minnesota mining company.
Sean Bean plays Kyle, husband to Josey's friend, Glory (Frances MacDormand). Kyle is a stay-at-home partne r in the relationship, sidelined some time earlier by a mining injury at the same company where Glory now "drives truck." In a traditional role reversal that a less confident man might not have been able to accept, Kyle maintains their home and keeps a low profile--as well as taking the occasional potshots from his former crewmates with grace--while Glory gains momentum at the mine. Then, as Glory develops ALS and starts to lose control over elements of her life, their roles shift again and Kyle takes charge. As McDormand says, "he rises and becomes her voice."
"Sean has such sensitivity as an actor," says director Niki Caro. "I'm surprised that he's played so many bad guys on screen. His Kyle is tireless and genuine, every woman's dream; a confident man who is also incredibly gentle. His story is entirely subtextual but vital and very moving. The relationship between Kyle and Glory is one of love and romance. Sean brings a powerful humanity to the character and his situation."
Stepping up as Josey's first real ally, albeit reluctantly, is hometown attorney Bill White, played by Oscar- and Golden Globe-nominated Woody Harrelson ("The People Vs. Larry Flynt"). "Woody worked at a great depth in this part and he was simply amazing; he cannot do a single thing wrong on screen," says Caro. "He has the strength in his own character to truly explore Bill White's vulnerabilities and that helps to avoid the whole black-and-white polarization, which is of paramount importance to a story like this."
Bill's vulnerability is based in part on his own profound self-doubts, both as a lawyer and a person. Initially, the prospect of trying Josey's case is as daunting for him as it is for her.
"Bill has returned to the Iron Range after having left for New York where he joined a big law firm, got married and then divorced," Harrelson explains. The one-time high school hockey star who left town to pursue his dreams now finds that, "his career and personal life haven't turned out the way he expected and he's in a bitter funk when we meet him. He's hesitant to take Josey's case against the mine for a number of reasons, not the least of which is that his expertise at the law firm was in negotiating settlements, not going to trial. But Josey won't let him do that."
At the same time, Harrelson notes, White is intrigued by the idea of breaking legal ground with the nation's first-ever class action sexual harassment suit. Forced to rise above his own misgivings, he takes the case all the way to trial and, "gets the chance to rediscover his self-respect and his sense of justice," concludes Harrelson. – Warner Bros.