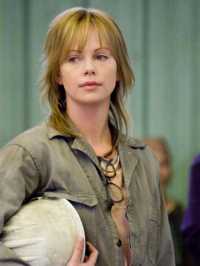 Oscar-winning actress Charlize Theron is known for her powerful performances in such diverse films as "Monster," "The Italian Job," "Sweet November" and "The Devil's Advocate"--proving time and time again that she is much more than just another pretty face.
Now, Theron earns her second Oscar Best Actress nomination for her courageous performance in Warner Bros.' life-affirming drama "North Country" where she plays single mother Josey Aimes who rallies her female co-workers to rise above the unfair treatment they face at a mining company.
Theron sees the conflict as largely a question of survival. "Josey enters a world where tensions are already high and where the existing workforce, predominantly men, is threatened by what they see as women coming in and taking their jobs. Bottom line, when survival is at stake, I think people will do what they have to do, and that applies to everyone at the mine, including Josey."
In casting Theron as Josey, director Niki Caro cites her body of work as well as the power of Theron's widely acclaimed performance in the 2003 crime biography "Monster," which earned the actress both Academy and Golden Globe Awards as well as a BAFTA nomination. "A lot of attention was given to her physical transformation in that film, but it was what she was doing emotionally that most impressed and moved me," Caro says. "It was truly no contest--I wanted Charlize in this role. She proved to be a real collaborator, completely invested in telling the story."
At about the same time, Theron saw Caro's acclaimed film "Whale Rider" and loved it, prompting in her a keen interest in working with Caro. "I asked my agent to try setting up a meeting with her for whatever she was doing next and then, unbelievably, five days later I got the call for `North Country,'" Theron relates. "I was ecstatic. I've been completely overwhelmed and inspired by the whole experience; there isn't a word in the dictionary to explain how it felt for me to be a part of this picture.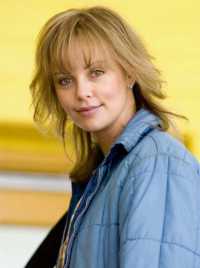 "I'm fascinated by people who don't realize they have incredible internal fortitude and ability. They discover it only when they get themselves into situations that require it or realize some truth that others are not seeing. That's Josey to me," says Theron, describing one of the reasons she was attracted to the story and its heroine. "The road she takes is a very lonely one and not one she is obligated to choose, but she does and she paves the way for others who are going through the same difficult circumstances. That takes a special, strong person and I love the way Josey finds this inner reserve of courage that I don't think she even realized she had."
Another aspect of the film that appealed to Theron was the disarmingly straightforward way in which Caro approached it. "What I like about Niki's direction is that she doesn't complicate anything that doesn't need to be complicated. There is something beautiful in the simplicity of her style; the w ay she sees the world and people in general, and these people and their struggles in particular and how she taps into that."
Opening soon across the Philippines, "North Country" is distributed by Warner Bros., a Warner Entertainment Company.