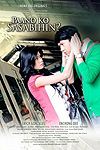 It's a bit of a simplistic comparison, but the appeal of
Paano Ko Sasabihin
is much like that of a similarly-themed film from another festival,
Dinig Sana Kita
. Both films have trouble grappling with the plot, but they also an undeniable sweetness and an appealing earnestness that would eventually win them the audience prize in their respective competitions. The plot problems of
Paano Ko Sasabihin
are a bit heavier than that of the earlier picture, but its crowd-pleasing power is difficult to ignore.
Erhyl (Erich Gonzales) and Mike (Enchong Dee) are regular commuters on the LRT. Erhyl has a deaf-mute brother, and Mike teaches a class of deal-mute kids, so they're both adept in the use of sign language. They spot each other on the train one day, both of them using sign language to communicate. They come to wrongly assume that the other one is deaf-mute, and they both end up pretending that they're also deaf-mute. Though the two hit it off, their mutual lie hangs over their relationship. With both of them too afraid to admit the truth to the other, their romance is quickly curtailed by the growing guilt.
It's a little difficult to buy into the film's premise, which sounds like it could be the plot of a super-hackish Hollywood romcom. But if you can look past it, you'll find a pretty honest and heartfelt story. Though it never stops feeling altogether hokey, the characters are fleshed out well enough that you might just be able to overlook the general weakness of this particular conflict. There's plenty of other stuff going on in the characters' lives, and for the most part, the film allows us to delve into this periphery long enough to forget that their situation can come off as a bit ridiculous. The film once again runs into problems near the end, when it has to resolve the film's main conundrum. And no answer could possibly be satisfying in this instance.
Solid filmmaking ultimately makes the film better than its premise. The boilerplate romantic movie moments are backed up with a strong sense of style. The film benefits from a general softness, a sensitive tone that feels like a fond but bittersweet recollection. It's likely that the biggest reason people will go see this film is the pairing of its two young stars. Thankfully, Enchong Dee and Erich Gonzales have more than enough chemistry to carry their romance. Denied their voices for most of the film, the two young actors are forced to give focus to their facial expressions and their body language. And it's obvious that the two benefit greatly from the exercise, a unique kind of honesty emerging that isn't often seen from the studio progeny. When these actors are given the chance to speak in the film, it almost feels inferior to their signed delivery. The return of their voices brings with it the return of bad habits, the decidedly small screen soap operatic melodrama that young actors are raised on. Still, their overall performances are noteworthy, and it might be interesting to see where they go from here.
Paano Ko Sasabihin
is just sweet enough that some of its flaws can be glossed over. And in certain moments, the film can be genuinely compelling, the mechanical orchestrations of plot forgotten as the film simply tells the story of two people slowly opening their hearts to each other. Of course, once the moment is over, we return to a contrivance that grows more preposterous with every passing moment, and a glancing tendency for melodrama. But in the end,
Paano Ko Sasabihin
is altogether pleasant, if not totally satisfying.
My Rating: