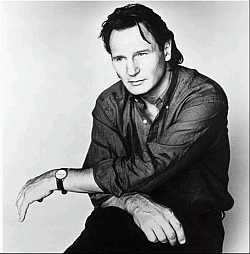 In Walt Disney Pictures' new fantasy adventure "The Chronicles of Narnia: The Lion, The Witch and The Wardrobe," Aslan is the wise and majestic lion who sang Narnia into existence and once served as high king of the land.
To create this towering character, so beloved as a hero by so many, director Andrew Adamson turned both to CGI wizardry and to acclaimed Academy Award®-nominated actor Liam Neeson, who creates Aslan's charismatic personality through his voice.
"Aslan is all-powerful and all-knowing, yet still has a very human vulnerability," observes Adamson. "I think C. S. Lewis used a lion for Aslan because he represents something that's both fearsome and awesome. He's the epitome of strength and power, but he's not just a dream lion. He's flesh and blood and that was very important to our conception."
For the filmmakers, the key to creating Aslan was to use the latest digital magic to make him look like he isn't digital at all--but a true beast of the forest, albeit with disarmingly human and intelligent eyes, right down to his thunderous roar.
"We hope Aslan will be the most photorealistic computer-generated animal yet seen in a motion picture," says producer Mark Johnson. "We want audiences to wonder just how we were able to get this dangerous beast to interact so beautifully with child actors."
It took VFX supervisor Dean Wright some 700 individual VFX shots and almost 2 years to breathe life into Aslan. "There's a very fine line when taking an animal character and having it talk and relate to humans," Wright admits, "and we definitely didn't want to cross the line of becoming cartoonish. The photorealism and the movement had to have almost a hyper-reality to them in that Aslan acts just like a lion yet can do more than you expect a lion to do, and that was our challenge."
Vital to Wright's work was allowing Aslan to speak in a natural, organic manner which meant mapping the movement of his speech unto the whole musculature of the animal and not just his mouth--creating a realism that takes the animation that brought "Babe" and other talking animals of recent cinema to new heights.
Comments Adamson, "It was essential to me that the animation in this film not be caricatured. I wanted the moment where Lucy nuzzles up to Aslan to have the power of 'Oh my gosh, that little girl is snuggling up to a real lion.' It had to have the kind of weight and believability that you don't usually see in animation. We're very lucky that technology has just reached the point where this was a possibility."
Meanwhile to match a voice to the mighty beast, Adamson turned to leading screen star Liam Neeson because, he says, "Liam has such beautiful depth and resonance to his voice. He can exude such great warmth and compassion while also possessing a ferocious strength. He completely believes in the character and it comes across in a performance that adds the final touch in bringing him to life." – Buena Vista International