Val Kilmer relishes being gay
posted on

Wed, 30 Nov 2005 12:00 AM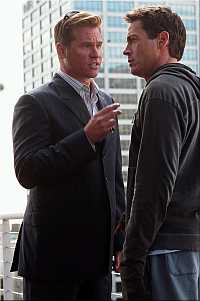 His range as an actor has been duly tested by playing such larger-than-life characters as Moses, Batman, Jim Morrison and Doc Holliday. Now, Val Kilmer ups the ante once again, playing a gay detective in Warner Bros.' new mystery thriller "Kiss Kiss, Bang Bang"--an irreverent, intelligent and hilarious tale which also stars Robert Downey Jr.
A gay detective might seem a curious role for one of Hollywood's fully-fledged heartthrobs. "He wasn't gay when I read it the script," Kilmer says. "I insisted. I told [writer-director] Shane Black, 'We gotta juice it up a little. I think I should be gay. I think I should kiss Robert Downey in the middle of the film. Maybe even earlier. Several times.'"
"Some people," he jokes, "have observed that maybe this wasn't my first gay role. Maybe that was `Top Gun.'"
To be shown soon exclusively at Ayala Cinemas, "Kiss Kiss, Bang Bang" tells the story of Harry (Downey), a petty thief posing as an actor who is brought to Los Angeles for an unlikely screen test. Thrust into the cutthroat world of L.A.'s pros, cons, losers and wannabes, Harry finds himself in the middle of a real-life murder mystery along with Perry (Kilmer), a gay private eye who has been training him for his upcoming audition. Dead bodies surface and re-surface...long-buried family secrets erupt in present-day mayhem...and what began as a free trip to L.A. may result in Harry's one-way ticket to the city morgue.
Rugged, ruthless and relentlessly tough, Kilmer's Perry stands in sharp contrast to Harry's gregarious naivété. He's a crack shot with a gun as well as his deadpan delivery, and he makes no secret of his disdain for his new charge.
"Perry has been around the block before, and he knows Harry is trouble," says Kilmer. "He wants nothing to do with him." "Perry is a steely-eyed S.O.B. who could kick your teeth in, but he also has a few fussy predilections," says Shane Black. "Despite the fact that his candor makes some of his clients uncomfortable, Perry is iconic; he's a mythic figure who commands the room when he enters it, and Val does that brilliantly."
"It's fun to be irreverent, which I don't get many opportunities to do onscreen," comments Kilmer. "I've been trying to find a good comedy to do for years. Hollywood has habits and one of them is: you have to have recently been in a comedy to be funny. They won't give you one if you haven't been funny in a couple of years."
"Val has a reputation for being this stoic actor that everyone is almost afraid of because he's so intense," Black says, "but he's got a great sense of humor about himself that really shows in this character. At the same time, he brings a real subtlety to his portrayal of Perry, making this classic tough guy credibly gay without resorting to stereotypes or lapsing into caricature."
In addition to the appeal of playing a gay character, Kilmer says he was drawn to Black's textured screenplay. "I love Shane Black's writing. He writes with a lot of flair, and this project is my favorite kind of movie: it's about something serious without taking itself too seriously. It's entertaining and fun to watch."
"Kiss Kiss, Bang Bang" is distributed by Warner Bros. Pictures, a Warner Entertainment Company.