New actress gets possessed
posted on

Mon, 31 Oct 2005 12:00 AM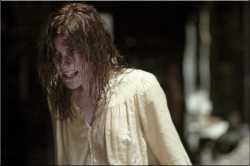 You've probably never heard of Jennifer Carpenter. But after the release of Columbia Pictures' "The Exorcism of Emily Rose" across the Philippines on Nov. 23, people here will be talking about her.
Carpenter, 26, plays the title character Emily Rose. Her performance in the film as a demon-possessed young woman is so convincing, one of the film's producers said that people on the set nervously joked that perhaps she was really possessed. Director and co-writer Scott Derrickson said Carpenter's act was so realistic that "she was, in and of herself, entirely terrifying."
The film is based on the true story of Anneliese Michel, a German college student who died during an exorcism in 1976. Her parents and the priests who carried out the exorcism were later convicted of manslaughter and sentenced to six months in prison.
"The Exorcism of Emily Rose," likewise, begins with the same premise: A young woman dies during the course of an exorcism, and an ensuing court case explores the fundamental question: Was she truly demon-possessed, or merely manifesting mental illness and/or epileptic-like episodes? The movie flashes back and forth between courtroom scenes, the tormented life of Emily and scenes of the exorcism.
At the trial, the defense (Laura Linney) tries to convince the jury that Emily really was possessed, while the prosecution (Campbell Scott) argues that there's a scientific explanation-rather than a spiritual one-for Emily's disturbing behaviors.
Derrickson had all but settled on an actress to play Emily Rose, when Laura Linney suggested that he audition Jennifer Carpenter. Laura and Jennifer had worked together in the Broadway production of "The Crucible," and Linney counted her as one of the best young actresses she'd ever seen. "Jennifer's callback audition altered my entire approach to making the movie," says Derrickson. When I saw her do what she did--the way she sounded and moved her body--I knew I wouldn't have to rely on visual effects. She was in and of herself, entirely terrifying."
"I prepared for this role like an athlete would, so that I could do anything, physically or mentally, that Scott wanted me to do, and be able to go wherever he tried to take me," Carpenter explains. I read several books on possession and exorcism and did some study on epilepsy. I tried to look at everything from a bird's eye perspective and not let my own point of view get in the way."
"It has been a tremendous privilege to work with Jennifer," says Tom Wilkinson, who plays the priest-exorcist Father Moore. "She really went for it and that was great for me because it gave a certain terror to my performance. She was incredibly vivid."
Says Carpenter, "One thing that struck a chord with me is a line spoken by Father Moore, that says faith and doubt should coexist, because faith without doubt can be dangerous." - Columbia Pictures