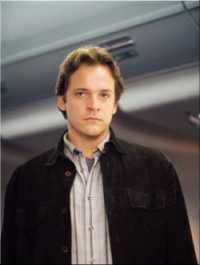 After a brush with hoodoo and Kate Hudson in the horror hit "The Skeleton Key," Peter Sarsgaard now helps Jodie Foster find her missing daughter aboard a new state-of-the-art airliner, in Touchstone Pictures' suspense thriller "Flightplan," which recently spent two weeks at No. 1 at the U.S. box-office.
In the middle of the flight, as Kyle Pratt's (Foster) terror and paranoia snowball, a ray of hope appears when a passenger reveals himself to be an air marshal--a policeman in the sky and a new fixture on flights in the post-9/11 world. Played by Sarsgaard, Air Marshal Gene Carson must now attempt to figure out if Kyle is simply a distraught mother searching for a lost little girl or a dangerous threat to all the other passengers.
Sarsgaard was impressed with "Flightplan's" sophisticated take on suspenseful storytelling. "I thought it was a terrific combination of genres," he says. "To me, at first, it was a movie about grief, but then it transforms itself into a thriller and a drama and a mystery with lots of twists and turns. It becomes a kind of labyrinth. There's definitely something very Hitchcock about it."
Although he was intrigued by the role of Gene Carson, Sarsgaard worried at first that he wasn't physically intimidating enough to play an air marshal, only to learn that one of the main qualities of an air marshal is the ability to blend into their surroundings and not stand out. He also realized that air marshals are being so heavily recruited that they come from all walks of life. After being cast, he met with several real-life air marshals to get a better sense of the rapidly burgeoning job.
"What I learned is that an air marshal wants to be very discreet and yet have a sense of overwhelming authority at the same time," Sarsgaard explains. "It's quite fascinating work and they tend to take the most interesting flights--high-risk flights on the biggest planes with lots of different kinds of passengers. It's also a job that requires a lot of patience, because 99.9% of the time, you have nothing to do but sit on the plane and be aware of who people are and what they are doing around you. It's kind of like an endurance test! But when something does happen, you have to be prepared to react."
Carson is quickly thrust into an unexpected situation on this flight when a child appears to have gone missing. Or alternatively, a passenger seems to have lost her mind, depending on who you are willing to believe.
"This movie is very much about first impressions and different perspectives and how you can see a mystery different ways depending on how you look at it," says Sarsgaard. "I found that really interesting."
Sarsgaard was also excited to work so closely with Jodie Foster. "She has amazing enthusiasm and passion," he comments. "It's wonderful to act with someone who is so engaged and cares so much about every little detail of every scene even though she has already had so much success in her career."
Opening across the Philippines on November 9, "Flightplan" is a Touchstone Picture distributed by Buena Vista International through Columbia Pictures.