Popularly known as "The Lord of the Rings" fallen hero Boromir, Sean Bean will be seen next on the big screen opposite two Oscar Best Actress winners--with Jodie Foster in Touchstone Pictures' suspense-thriller "Flightplan" and with Charlize Theron in Warner Bros.' inspiring drama "North Country."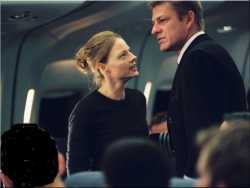 In "Flightplan," a recent No. 1 box-office hit in the U.S., Bean plays Captain Rich, the pilot of the aircraft and the one man ultimately in control of the fate of Kyle (Jodie Foster) and her missing daughter, whether or not the child is truly on the plane. Says director Robert Schwentke: "Sean inherently possesses all the pertinent qualities of Captain Rich. He also brought a tremendous amount of humanity to the character. His captain wants to make the right choice, but is caught in a situation that wasn't covered in his rulebook."

Bean was taken in by "Flightplan's" mysteries. "By the time the pilot gets involved, no one is sure if Kyle got on the plane with a child in the first place or whether she might be having delusions or what is going on," he explains. "My character, being a father himself, tries to empathize with her. He's not quite sure if he's a believer or not. He wants to believe her, but he's also suspicious that she might be some kind of danger to his flight, and safety is his first priority."

Bean especially took pleasure in the intriguing interplay between his character and Jodie Foster as they try to size one another up and figure out one another's agendas. He recalls, "It was such a thrill to watch Jodie Foster work because she is so incredibly focused."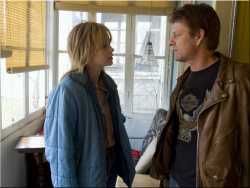 Meanwhile, in "North Country," Bean's character is coincidentally named Kyle, a stay-at-home husband who must now take care of his ailing wife, Glory, whose illness has alarmingly progressed. Kyle was sidelined some time earlier by a mining injury at the same company where his wife now "drives truck." In a traditional role reversal that a less confident man might not have been able to accept, Kyle maintains their home and keeps a low profile--as well as taking the occasional potshots from his former crewmates with grace--while Glory gains momentum at the mine. Then, as Glory develops ALS and starts to lose control over elements of her life, their roles shift again and Kyle takes charge. As director Niki Caro says, "he rises and becomes her voice."

"Sean has such sensitivity as an actor," adds Caro. "I'm surprised that he's played so many bad guys on screen. His Kyle is tireless and genuine, every woman's dream; a confident man who is also incredibly gentle. His story is entirely subtextual but vital and very moving. The relationship between Kyle and Glory is one of love and romance. Sean brings a powerful humanity to the character and his situation."

"Flightplan" opens across the Philippines this November, to be followed by "North Country" in January 2006.