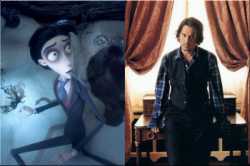 Voicing the lead characters of Tim Burton's "Corpse Bride" (Warner Bros.) is an incredible cast of actors, led by the two-time Academy Award-nominated Johnny Depp.
Set in a 19th century European village, this stop-motion, animated feature follows the story of Victor (Depp), a young man who is whisked away to the underworld and wed to a mysterious Corpse Bride (Helena Bonham-Carter), while his real bride, Victoria (Emily Watson), waits bereft in the land of the living.
Though life in the Land of the Dead proves to be a lot more colorful than his strict Victorian upbringing, Victor learns that there is nothing in this world, or the next, that can keep him away from his one true love.
Depp worked simultaneously on "Corpse Bride" and Burton's recent blockbuster "Charlie and the Chocolate Factory." Many of his recording sessions took place at the end of a "Charlie" shoot day, when he would get out of his Willie Wonka costume and into the recording booth to voice Victor. Depp had never voiced a character in an animated film before, but the actor, a well-known Tim Burton devotee, jumped at the prospect of working with the director on both projects. "Corpse Bride" marks the fifth time the actor and director have united, Depp also having starred in Burton's "Edward Scissorhands," "Ed Wood" and "Sleepy Hollow."
"Each time I've worked with Johnny he's something different," says Burton. "He's interested in being a character and not necessarily interested in his persona, and I find it very exciting to work with actors like that. Especially ones that are perceived by the public as being People Magazine's Most Beautiful People, or whatever they call it. He's really willing to take risks that don't have to do with image or money. And each time is just different and better. It's great to find people like that you can communicate with on an almost subconscious level."
"Tim's vision is always amazing, beyond anything you expect," says Depp. "If Tim wanted to shoot 18 million feet of film of me staring into a light bulb and I couldn't blink for three months, I'd do it."
Depp received an Academy Award nomination, Golden Globe nomination, Screen Actor's Guild nomination and BAFTA nomination for his role as J.M. Barry in Mark Forster's "Finding Neverland," in which he starred opposite Kate Winslet and Freddie Highmore.
Depp also received an Academy Award nomination, Golden Globe nomination, BAFTA nomination and a Screen Actor's Guild Award for Best Actor for his portrayal of Captain Jack Sparrow in the action adventure "Pirates of the Caribbean: The Curse of the Black Pearl." He is currently filming "Pirates of the Caribbean: Dead Man's Chest" and "Pirates of the Caribbean 3."
Opening soon across Metro Manila, "Corpse Bride" is distributed by Warner Bros. Pictures, a Warner Entertainment Company.