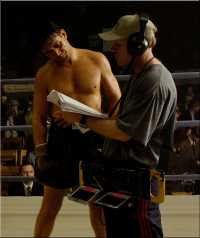 Ron Howard's professional relationship with Russell Crowe is proving to be one of the most intriguing, and indeed, fruitful, in modern cinema. The director first teamed up with Crowe on "A Beautiful Mind," the story of troubled math genius John Nash, and they are re-united on Touchstone Pictures' new moving drama "Cinderella Man"--along with two other key components of the creative team, producer Brian Grazer and writer Akiva Goldsman.
There's obviously a strong bond between this group forged on the set of "A Beautiful Mind"--winner of four Oscars, including Best Picture and Best Director--which meant that they could hit the ground running when it came to filming "Cinderella Man" in Toronto.
"You know, certainly by the end of 'A Beautiful Mind,' Russell and I had a friendship and a professional trust and we were able to roll that right over into making `Cinderella Man,'" explains Howard, "and it yields work I'm really proud of and as a creative experience it's exciting and it's fun and we've become really good friends."
Howard, his cast and his crew faced a gruelling, physically demanding shooting schedule--especially Crowe, of course, who plays Depression-era boxer James J. Braddock, a once promising heavyweight who, after a run of injuries and bad luck, finds himself on the scrap heap before making a remarkable, inspiring comeback.
The actor dislocated his left shoulder just a week before he was due to leave home in Sydney for the start of production in Toronto. It forced a delay of some six weeks whilst he had corrective surgery, therapy and then started training again. Throughout the shoot Howard was always aware that his star's shoulder could give out at anytime.
"Did I worry about it? Yes, every day," says the director. "And every time we did a scene with Russell in the ring there was a chance it could go again. At the same time, Russell is not the kind of guy who is going to take things easy. He just doesn't work that way. So it caused a lot of tension."
Whilst Howard wouldn't disagree that Crowe has earned himself a reputation as a passionate and sometimes volatile personality, the director would be the first to praise his leading man's dedication and talent. Quite simply, he says, there are very few actors in the same class as Crowe.
"Look, in his own way, Tom Hanks is as intense as Russell," says Howard. "He's easygoing and he's not confrontational in a sort of a quicksilver way but if there is a problem it's as urgent and the alarms go off just as clearly if you are working closely with Tom Hanks as if you are working with Russell Crowe. They are there because they are pursuing excellence in what they do and anything that impedes that is a problem and it should be."
"Cinderella Man," which stars Renee Zellweger as Mae Braddock and Paul Giamatti as Braddock's manager, Joe Gould, is a love story as much as boxing movie, says Howard.
"I never thought of it fully as a boxing film," he says. "The difference for me is that it's not a story of somebody trying to fulfill a dream. It's not about the pursuit of excellence, it's not about the ego of pride driving someone towards a championship; it's really a survival story and a love story.
"You have this love and it's providing the foundation for their survival and it's as important in its own right as Braddock's courage in the ring is. The two work together--they are inseparable," concludes Howard.