Man kicks his way through life. It was the premise on how Padyak, the new film from Breaking The Box Productions, kicked its way out of the creative womb of writer, producer, director Aloy Adlawan. Adlawan has crafted characters like Polo Ravales' Roomboy in the 2005 Cinemalaya Film Festival and Coco Martin's security guard in Condo. This time around, he introduces Noel, the pedicab driver played by Jay Aquitania.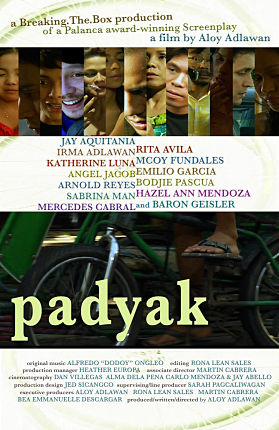 "I shaved my head," Jay Aquitania says. "It was a good way of easing into the role." This came out during a discussion as to how he would "look" in the movie after Aquitania's portrayal as a closet homosexual in Roxxxane and his Japanese speaking character in Cinemalaya's Concerto. "Kuya Aloy asked if I could be in skin head. But he wasn't sure about it yet as he couldn't imagine how I would look with a shaved head. So he left the decision to me."
First day of shoot, Aquitania arrived on the set with a shaved head and Adlawan did not recognize him. "It took me a moment to realize it was Jay," Adlawan claims. "Then I realized this was going to be great. He very much looked like the part already and he wasn't even driving his pedicab yet. The rest was just easy for Jay. He eased into Noel's character as comfortable as wearing his favorite shirt. He would play around with his pedicab on the set like it was really his thing."
Padyak uses the pedicab vehicle as a visual symbol to his theme running around the cycle of life and Adlawan's fascination with existential exploration. The pedicab is one of the country's unique form of transportation second to the jeepney. It uses pure human energy to transport passengers. No gas. No pollution. No global warming guilt.
In July of 2008, the screenplay was given a P500,000 grant from the National Commission for Culture and the Arts. Then it won third place at the 2008 Don Carlos Palanca Memorial Awards for literature in the screenplay category.
Padyak boasts of breakthrough performances from an ensemble cast composed of seasoned luminaries like Rita Avila, Irma Adlawan, Bodjie Pascua and Baron Geisler. Even singer-songwriter Mcoy Fundales of then Orange and Lemons fame (now Kenyo) turns in a heartbreaking performance. Young Hazel Ann Mendoza ventures into her first indie film. Cannes royalties Katherine Luna (Ang Babae sa Breakwater) and Mercedes Cabral (Serbis) also shine in their respective roles. Angel Jacob, Arnold Reyes and internationally acclaimed actor Emilio Garcia complete the great ensemble.
Padyak is showing on March 4, 2009 exclusively at the Robinson's Galleria Indiesine and will roll over other theaters after its Indiesine stint.