On Our Shelves: La Visa Loca
posted on

Fri, 20 Feb 2009 12:00 AM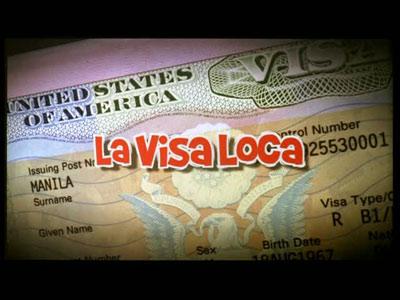 La Visa Loca
Written and Directed by Mark Meily
Starring Robin Padilla, Rufa Mae Quinto, Johnny Delgado, Paul Holme, Tessie Tomas, Noel Trinidad, Isay Alvarez, Robert Sena, Marissa Sanchez
Originally released in 2005 by Unitel Productions
Released on DVD by Cinefilipino (Unico Entertainment)
Found on the shelves at Powerbooks Glorietta
P450 (P650 in a box set with
Crying Ladies
)
In 2005, Mark Meily followed up
Crying Ladies
with
La Visa Loca
, a satirical tale about a limo driver so obsessed with acquiring a US Visa that he's driven to crucifixion. The movie did not garner the near-universal acclaim brought on by his first picture, and if I remember correctly, it barely lasted a week in most theaters. But
La Visa Loca
is a far cleverer film than most people give it credit for, and a second watch on DVD has convinced me that pound for pound, it might even be a better movie than
Crying Ladies
.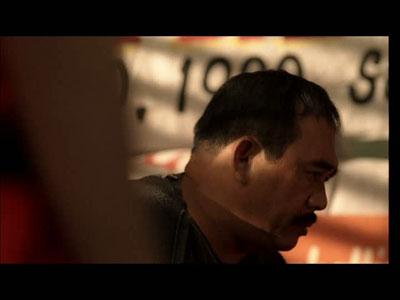 Scandalous, I know, but it's striking just how much
La Visa Loca
has to say, and how smart it can be in saying it. In ambition alone, this movie trumps the previous one by a large margin, and though not everything works, there's enough in it that I would recommend to anyone.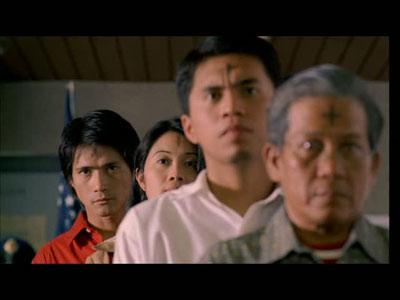 La Visa Loca
opens by introducing us to a young Jess Huson, hawking crab in the streets of Manila to whoever happens to be passing by. We follow him home, where his father Sancho tells him that his mother has died in the States, run over by a car in New Jersey. We move years ahead, to the U.S. embassy. Jess Huson, now an adult, is applying for a visa, but the interviewer is giving him problems. He thinks "Huson" doesn't sound like a Filipino or Spanish name, and comes terrifyingly close to "Hussein." He also has trouble with Jess' hometown, Sexmoan, Pampanga, not really believing that a place could be named that. Jess is soon out the door, rejected stamp on his application.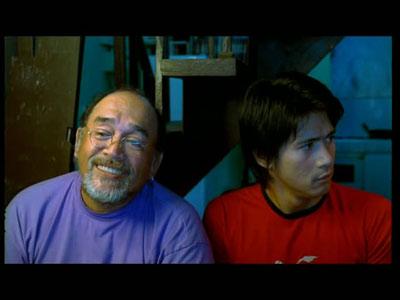 We follow Jess home, and we learn that he's trying to get to the States to reunite with his girlfriend, who's been supporting Jess and his dad from abroad. Jess' dad, Sancho, has gone deaf, and spends most of his time watching television or generally being difficult. Jess supports his father by working as a driver for a car service. While on the job, he meets Nigel Adams, the host of global oddity show
Strange Planet
, who's in the Philippines for Holy Week, hunting for material. The movie basically follows Nigel as Jess drives him around the provinces, looking for people who supposedly have supernatural powers. This leads them to a series of hoaxes and charlatans.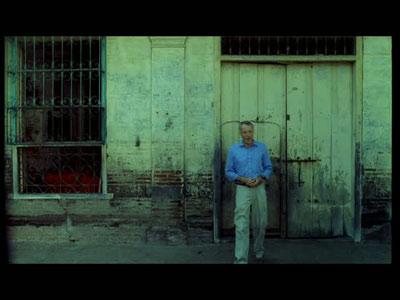 Nigel becomes frustrated with constantly being disappointed by his leads. Jess then suggests that he shoot the Kristos, the people who have themselves crucified for Holy Week. Nigel is hesitant, because he's aware of how chaotic it gets in Pampanga, and how the footage he'll probably get will be something that everyone's seen before. Jess suggests that Nigel go to Bulacan instead, where the celebration is much smaller, and he can follow a single Kristo around for the whole day. Nigel tells Jess that if he can get access to a Kristo, he'll recommend Jess for a job in his brother-in-law's nursing home in Florida.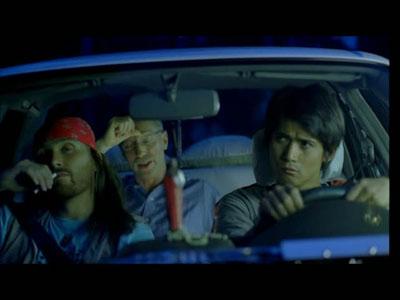 After a long search and many false starts, Jess does find a Kristo, but he turns out to be a scammer. With Nigel furious and Jess quickly realizing that his chance to get a visa is quickly slipping away, Jess volunteers to take the scamming Kristo's place. And so, Jess Huson, to get an American visa, carries a cross up a hill, and has himself nailed to it in front of a cheering crowd of people. Delirious, Jess has a dream about rejecting visa applications of foreigners trying to get into the country. When he wakes up from the dream, he's still on the cross, and people are taking pictures.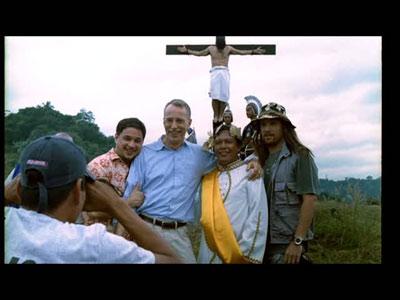 The movie's satire goes far and wide, touching on our strange mystical relationship with religion and the overall colonial mentality that pervades our culture. It's really the little things, like Jess pouring 3-in-1 coffee mix into a Styrofoam cup wrapped with a Starbucks cardboard sleeve, that make this movie so rich and entertaining. But this isn't all just fun and games: the movie does make a powerful artistic point. The journey of Jess is inherently absurd, though it just took the cultural milieu and took it to its logical conclusion. When you have doctors taking up nursing for a chance to go to the states, how farfetched is it really, for a person to go to the lengths that Jess did?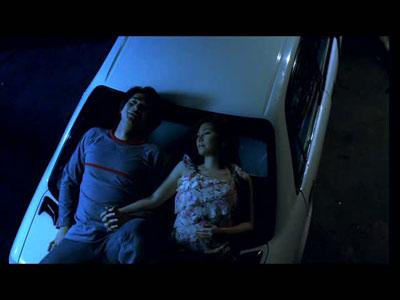 In the movie, colonial mentality has turned us into a nation of frauds, so disconnected from our true selves that we're willing to abandon everything that actually matters. Every one of the characters in the movie is a liar in some way, thinking that it's the only choice they really have. But in the end, for all the pains that he makes, Jess will choose love and family and the country, difficult and imperfect as it is. The weird thing about
La Visa Loca
is that it celebrates our eccentricities and flaws as much as it chastises us for them. It points out that while our situation is far from perfect, it's still worth a lot more than the false lives emerging from our colonial roots.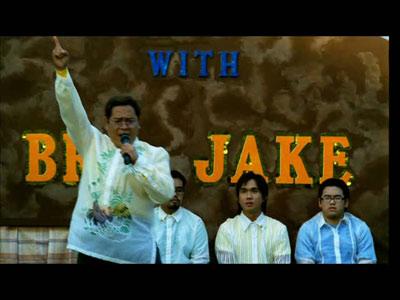 Jess makes for an obvious Christ figure, though the real Christ in this movie is the Philippines itself. Jess gets physically nailed to the cross, but it's the country that's really taken the knocks in the movie. For the people's sins, the country is condemned wholesale as a nation of thieves and liars, and the thieves and liars themselves are scrambling to abandon it. The best in this movie for me is when Nigel finally breaks and spills into a long tirade about the country, and Jess volunteers to be crucified in the scammer's place. When Nigel asks Jess why he's doing it, Jess says something beautiful and absurd: "I don't want you to have bad impression of our country."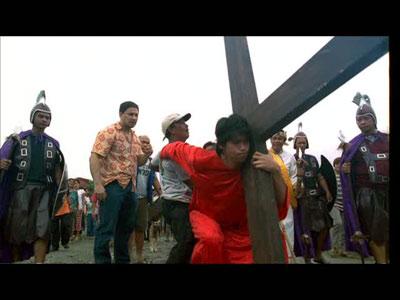 It may be one of the most ridiculous things ever said in cinema, this utterly profound and strange declaration of protectiveness and responsibility for a country that the character is looking to leave behind. But it sums up exactly the paradoxical feelings that a Filipino has about his country, so ready to condemn it himself, but also ready to defend its honor at any given time. It may fatuous to an extent, but there is a sense of love of loyalty in it.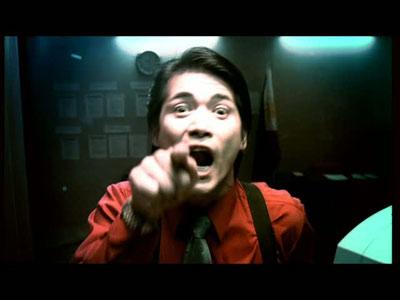 A lot of credit goes to Robin Padilla, who sells this sentiment really well. Padilla's swagger alone brings so much to the role, but it's his facial expressions that seal the deal. Padilla has such an expressive face that you could probably follow the story based on his facial contortions. Johnny Delgado appeared to be just messing around for most of the movie, but when it counts, he delivers. That one scene where he tells Jess what really happened to his mother was delivered with surprising gravity.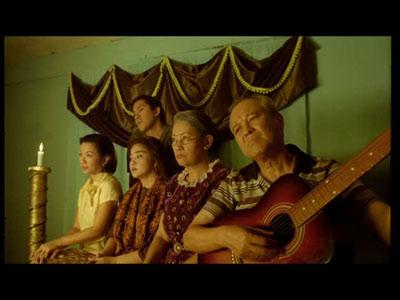 La Visa Loca
does have its problems. Some of the humor just doesn't work, and some of the scenes don't move through smoothly to the next one, but it's thematically solid. What's apparent in the picture, especially in a second viewing is the sheer amount of thought that was put into the form of the movie, the formalistic underpinnings that elevate a story to a genuine artistic work. Like the country itself, the movie is a sprawling, varied, absurd piece of work, bursting with cynicism, yet never running out of hope. What shines through for me, despite all the stones hurled at the country, is the love that Meily has for it. There's definitely something beautiful in that.