Vicky Cristina Barcelona
, Woody Allen's new romantic comedy about two young American women and their amorous escapades in Barcelona, took the plum award as Best Picture (Musical or Comedy) in this year's Golden Globe awards. One of Hollywood's finest actresses, Penélope Cruz, also received an Academy Award Best Supporting Actress nomination for her role as the mad ex-wife of a Spanish painter. The film also garnered three other Golden Globe nominations: Best Actress (Rebecca Hall), Best Actor (Javier Bardem) and Best Supporting Actress (Penélope Cruz).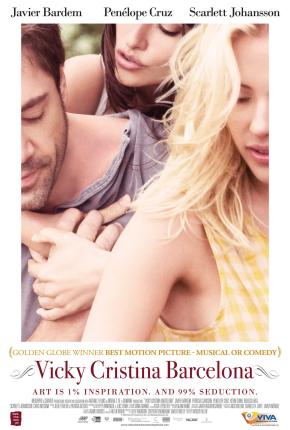 Set against the luscious Mediterranean sensuality of Barcelona, Vicky Cristina Barcelona is writer-director Woody Allen's funny and wise meditation on love, in all its romance, exhilaration, heartache, and elusive mystery.
In the film, Vicky (Rebecca Hall – The Prestige) and Cristina (Scarlett Johansson – Lost In Translation, Match Point, The Spirit) are best friends, but have completely different attitudes towards love. Vicky is sensible and engaged to a respectable young man. Cristina is sexually and emotionally uninhibited, perpetually searching for a passion that will sweep her off her feet. When distant relatives of Vicky offer to host them for a summer in Barcelona, the two of them eagerly accept.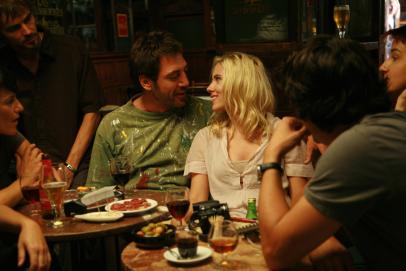 One night at an art gallery in Barcelona, Cristina, true to form, instantly locks eyes on the most intense and provocative man in the room, Juan Antonio (Academy Award® winner Javier Bardem – Before Night Falls, No Country for Old Men), a handsome painter. Cristina is only more intrigued when their host whispers that Juan Antonio had such an explosive relationship with his ex-wife Maria Elena (Academy Award® nominee Penélope Cruz – Vanilla Sky, Volver) that one of them tried to kill the other. Later that night, when Vicky and Cristina are having dinner, Juan Antonio approaches their table with a brazen proposition: fly with him for a weekend trip to the provincial town of Oviedo, where he suggests they explore the cultural wonders, drink fine wine, and make love together.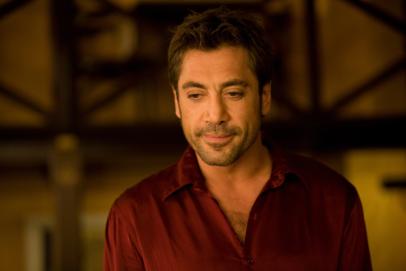 Juan Antonio invites the girls to his room--an offer Vicky adamantly refuses and Cristina willingly consents to. But just as Cristina and Juan Antonio are about to fall into bed, Cristina becomes ill, and it's Vicky who spends the remainder of the weekend alone with him. After returning to Barcelona, Vicky can't stop thinking about Juan Antonio. Meanwhile he directs his romantic attentions to the available and willing Cristina, who soon moves in with him. When Vicky expresses her disappointment, he points out that as she's engaged, it would cause needless pain for everyone if they continued.
As Cristina and Juan Antonio settle into a dreamy life together, one night he is awakened by an alarming phone call--Juan Antonio's ex-wife Maria Elena is at the hospital after a suicide attempt. Jealous and suspicious, and subject to wild mood swings, Maria Elena misses no opportunity to bicker with Juan Antonio and put Cristina down. In time, she becomes more relaxed and settles into a warmer relationship with Juan Antonio and even mentors Cristina's pursuit of photography.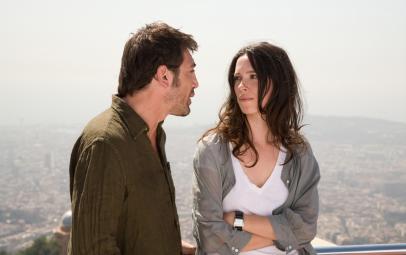 Yet as the summer draws to a close, Vicky and Cristina learn some hard lessons about love--and about themselves.
Vicky Cristina Barcelona is a film that is indelibly linked to its location. "When I began writing the script, I wasn't thinking of anything other than creating a story that had Barcelona as a character," says Woody Allen. "I wanted to honor Barcelona, because I love the city very much, and I love Spain in general," he says. "It's a city full of visual beauty and the sensibility of the city is quite romantic. A story like this could only happen in a place like Paris or Barcelona."
In Spain, Vicky and Cristina are drawn into a series of romantic entanglements involving two intense and passionate Spaniards, the painter Juan Antonio (Javier Bardem) and his fiery ex-wife Maria Elena (Penélope Cruz). Despite being head over heels in love, the two of them are always in bitter conflict for reasons neither one of them fully understand. "They tried many times to be together," says Cruz. "It always ended in a very bad way, but they keep trying." The pain from the failure of their relationship hangs heavily over Juan Antonio. "He's a man with a wound to be healed," says Bardem, "as a person, as an artist and in his relationship with Maria Elena. It's like there's a sign that is flashing over his body all the time. But his way of dealing with his fears is to face them."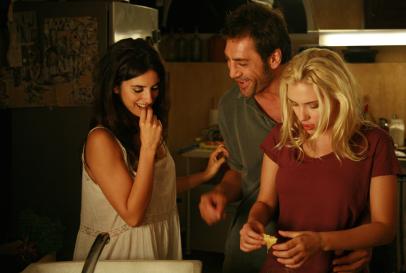 Allen had never seen Penélope Cruz in a film until he saw her Oscar-nominated performance in Pedro Almodovar's 'Volver.' "I just thought she was amazing," he says. "And of course I couldn't wait to get her for my movie…Maria Elena is a force of nature, and that's what Penélope is. She's beautiful and amazingly sexy in a way that no other woman in the world is-a very special kind of beauty. And she's a tremendous actress and she conveys it. Of course it's overwhelming."
"With somebody else I would have been scared to play a character that approaches every situation with the same level of energy," says Cruz. "When you have a character that is so extroverted and so loud and brings so much chaos, I think, maybe because of fear, I wanted to do some of the scenes a little bit quieter. And I tried a couple of times to make things smaller and he said, 'No, she lives in that state permanently.' He gave me a clear direction-'Be brave!'-and I think he was completely right about that."
See why love, art and madness can't mix as Vicky Cristina Barcelona opens at your favorite theaters beginning February 18. From VIVA International Pictures. Special thanks to the Spain Tourism Board. Check out www.insideespana.com/ph/vcb for details on the promotion to win tickets to Barcelona.