As part of its cine-club activities,
Alliance Française de Manille
is delighted to announce the showing of one of the 2005 Cinemalaya film festival hit
"Big Time"
. Every Wednesday evening, Alliance Française de Manille is welcoming cinema's enthusiasts with a selection of the latest French and Filipinos films. Screenings are
free of charge
and open to everyone.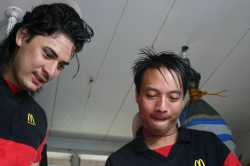 The presentation of this humour filippino film will take place at
ALLIANCE FRANÇAISE DE MANILLE ONDEO AUDITORIUM
(209, Nicanor Garcia St., Bel-Air II, Makati City) on Wednesday,
February 11 at 8.30PM
. The film will be followed by a Q&A with the director
Mario Cornejo
and the team of the film. The film is free admission and free of charge.
Mario Cornejo
is currently working as a director for movies, television and advertising. In 2005 he wrote and directed his first feature, "Big Time" for Arkeofilms, which has gone on to show in several film festivals abroad and was nominated for a number of awards. "Big Time" is considered to be one of the best comedies that have come out in a long time. Since then, Cornejo has gone on to direct another comedy, this time for mainstream studio entitled "First Day High." His last independent project was a short feature, "Stray Hearts," that has been selected for competition at the 2009 Rotterdam Film Fest. He is currently producing the feature documentary "Kano" for his long-time collaborator, Monster Jimenez.
Monster Jimenez
is an award-winning writer and filmmaker who has worked in newspapers, magazines, television and film. In 2000, founded Arkeofilms, an independent film production company where she remains a partner and Managing Director. In 2005, she wrote and produced the full-length feature film "Big Time" which won awards at the 1st Cinemalaya Independent Film Festival, including the award for Best Screenplay. The film received eight nominations including Best Picture at the country's 29th Gawad Urian Awards and had a semi-wide release in local cinemas in 2006. She is currently producing another full-length digital feature "Baby Angelo" for this year's Cinemalaya festival. She is currently finishing her first documentary feature, Kano, which is a grant recipient of the Asian Cinema Fund and the National Commission for Culture and the Arts.
ARKEOFILMS
is a young and vibrant motion picture arts company in Manila, Philippines. Since its inception in 2000, the company has consistently produced high-quality, distinctive works in film and digital video. In the last four years, its short and full-length features have been screened in numerous film festivals and have won awards and recognition from the local industry, critics and press.
This Cinemalaya film is about two petty crooks, Danny (Winston Elizalde) and Jonas (Nor Domingo), trying to hit it big time. And their misadventures reflect a fast-paced story backed up with an effective pop-culture treatment from the two young filmmakers Mario Cornejo and Monster Jimenez. It's edgy, 'Tarantinoesque' camerawork, stylistically action-packed, comedic, and at some point cynical scenes, witty dialogues and creative story keep a sincerely effective tale of well-established proportion. The entire film seems to reflect the kind of lifestyle and background of the two filmmakers who come from considerably well-off families. But unlike the trying hard to be artsy-fartsy films of some filmmakers who have some money to spend, this film reaches a certain appeal for the critics, the artists, the film buffs and even the mainstream audience. It delivers big time as it breaks from the overused action-comedy formula.
For more information please visit www.alliance.ph or mail sabrina@alliance.ph