When Jennifer Aniston received three copies of the same book as Christmas presents from friends all declaring that it was one of the funniest, most moving stories they'd read in years, perhaps she should have taken it as a sign that fate, in the shape of a lovable, boisterous Labrador called Marley, who was about to play a hand in her career.

The book was Marley & Me, written by journalist John Grogan, which chronicles the story of an adorable but anarchic Labrador retriever puppy –the Marley in question – who takes over and dominates his life with chaotic results.

At the time, back in 2006, Jennifer put the books on her 'to read' pile and mostly, forgot all about it. Next came a call asking her to take a look at a script based – you've guessed it – on Marley & Me.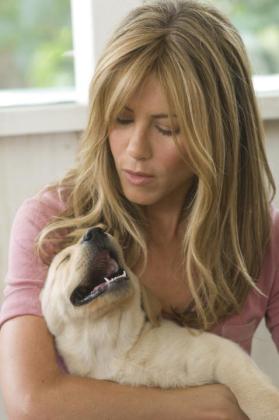 "I got the book from three different people over Christmas time," she recalls. "It was a book that everybody loved and I remember I got it and read the back cover and I thought, 'it's a book about a dog?!?'
Jennifer promptly devoured the book and loved it. "I couldn't put it down," she says. "It made me laugh and it is also incredibly poignant."
For Aniston, '
Marley & Me
' is essentially the story of a family. John Grogan recounts how he and his wife, Jennifer, both working journalists, settled on a Labrador puppy at a time when they were toying with the idea of starting a family. The gorgeous Marley – the runt of the litter who no one else had picked – is a temporary child substitute before, eventually, their own children come along.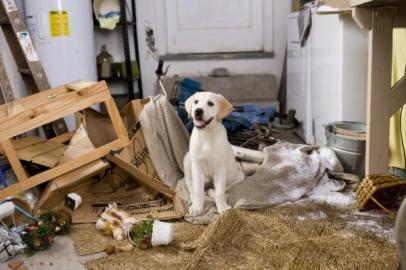 But as soon as they take "the wiggly yellow fur ball" back to their home in West Palm Beach, Florida, they realize that they have taken on a lot more than they bargained for.
Marley, adorable as he may be, is also a dog demolition unit capable of eating almost anything including clothes and jewellery, and the bigger he gets – and he's a big, strong hound, a 97 pound force of nature – the more destruction he causes.
"For me, it's a story of a marriage," says Aniston. "I wanted our film to be real because that's what the book was. It's the story of John and Jenny's life together with this incredible dog. And it's about how your start a life together with your expectations and dreams and it doesn't always turn out the way you imagined."
"He teaches them a lot about family and the responsibilities that come with having a family," notes Aniston. "The dog is adopted in the first place to throw Jenny off of the 'I think I want to have a kid' phase and he turns out to be more of a handful than any child could ever have been."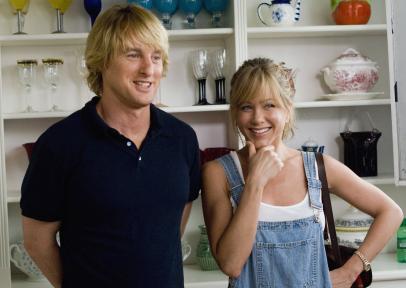 Aniston herself is a confirmed dog lover. She grew up with pets and currently has two much loved dogs, Norman, a 13-year-old Corgi cross, and Dolly, a two and a half year old white German Shepherd.
For an actress who found worldwide fame portraying Rachel in the phenomenally successful sitcom, Friends, which ran for a decade, it brought back plenty of memories. "I had never played a part like this where I was spanning 15 years of a life and then ending up with three children and a family so that was interesting. I mean, thank God I still had some of my clothes from the 90s!" she laughs.
Aniston has met Owen Wilson, who plays John Grogan, several times over the years and once, previously, they had come close to working together. He is, she says, a delight, on screen and off. That elusive magic known as 'on screen chemistry' is not easy to predict, she says, but with Wilson it came naturally.
Aniston, 39, was born in California and as a child lived in various parts of America and for a time, in Greece, where her father's family came from, before settling in New York when she was 7 years old. After attending the New York High School for Performing Arts where she studied drama, she appeared in off-Broadway theatre productions and supplemented her income working in various jobs, including working as a waitress in a hamburger restaurant.
She moved to Los Angeles in 1989 and landed her first major television role in the short-lived series Molloy. In 1994 she auditioned for a new sitcom, Friends, originally for the role of Monica, which would eventually be played by her close friend, Courtney Cox, before the producers offered her the part of Rachel Green. Aniston looks back on her time in Friends with great affection. "It's kind of crazy when you look back at it," she says. "But it was one of the best times of my life. It was truly fantastic.
"Marley and Me" opens February 4 in theatres nationwide from 20th Century Fox to be distributed by Warner Bros.