Frankly speaking, 2008 wasn't the greatest year for movies. By the second half of the year, the effects of the writer's strike were beginning to be felt, with a series of half-baked scripts being rushed into production for fear of a screenplay drought. That's hardly ever a recipe for success. Not to say that there weren't any good films in the previous year. In 2008, we saw the blockbuster movie grow up. Around the world, filmmakers were finding their voices. And locally, a few small productions were far better than most of what was out there. Here's my list of the best films that made it into our theaters in the previous year.


10. Sparrow

Cinemanila's opening film was a strong one. Johnny To's Sparrow is a delectable exercise in style that recalls the immortal Jean-Pierre Melville. To transforms the claustrophobic settings of Hong Kong into visual playgrounds where secret battles between thieves take place right under your nose. It was undoubtedly the most fun I had in a theater in 2008.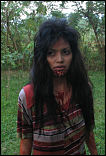 9. Yanggaw

Richard Somes is on a quest to bring the aswang genre to new heights. The big winner in this year's crop of CinemaOne Originals is Somes' Yanggaw, which certainly makes steps in the right direction. Somes turns the aswang tropes into a study of foolish pride and familial loyalty, manifested through strong performances from Ronnie Lazaro and Joel Torre.



8. Pineapple Express

On the surface, Pineapple Express is just another throwaway stoner comedy. But look deeper, and you get a remarkably thorough deconstruction of the action genre as a whole. The movie is every bit better than it needs to be, which is a fact that shouldn't be lost on fans of comedies, action films, postmodernism, or just getting stoned.



7. Jay

This year's Cinemalaya had a pretty strong lineup of features, and Francis Xavier Pasion's Jay was probably the strongest. The movie, which takes apart the cruel manipulation and outward cynicism that takes place in television production, is darkly hilarious and often courageously intelligent.



6. Iron Man

The moment they cast Robert Downey Jr. as Iron Man was the moment that the movie became great. Downey takes his own experiences at rock bottom and translates them into Tony Stark's story of redemption, lending the film an air of authenticity and earnestness when all it really needed to be good was explosion and flying things.



5. United Red Army

If you had told me a year ago that I would sit through and enjoy what amounts to three hours of historical re-enactments, I would have probably laughed. But then Koji Wakamatsu's United Red Army came along and showed me just how powerful a pure, untainted look at history could be. An unabashedly straightforward look at the formation and eventual dissolution of a militant Japanese socialist movement, the movie is unafraid to let the truth speak for itself.



4. The Dark Knight

The Dark Knight is probably on top of many people's lists this year, and it would certainly be deserving of that spot. Little more needs to be said about how great this movie really is. In fact, too much has probably already been said. As it stands, though, it remains a new standard for superhero movies, a genre that's mostly dismissed as blockbuster fluff.



3. Adela

Anita Linda. Those are the only two words you really need to hear. She's the reason that Adela ends up being so strong. Adolfo Alix Jr. takes a markedly low-key approach to the story, keeping the spotlight solely on the performance of Ms. Linda, who paints decades of history in her facial expressions, in the end giving us enough to tell all our own stories.



2. Wall-E

It occurs to me that I probably do too much fawning over Pixar in my writing, but I can't really help it. Pixar is constantly changing the way the game is played. They appear to have a direct line to our childhood, in mere moments taking the most seasoned and cynical moviegoers and bringing them back to a time when everything was magic. Wall-E is all at once satirical, sentimental, awe-inspiring and adventurous, just about everything we could ask for in a children' film.



1. The Band's Visit

The Band's Visit is just remarkable to me, a film that says so much by doing so little. The story is incredibly small: that of an Egyptian police band that ends up going to the wrong town in Israel and spending the night. And yet, so much is said about the relationships between men and women, fathers and sons, Egyptians and Israelis, Muslims and Jews. Eran Kolirin's light touch allows the story to grow far beyond it borders, becoming strikingly resonant even to the most foreign of audiences.



Honorable Mentions:

Cinemalaya had a good year, between 100, Concerto and Boses. I thoroughly enjoyed Lav Diaz's Melancholia. Not included in the top ten are prestige movies from last year that made it here late. Namely, No Country for Old Men, There Will Be Blood, Sweeney Todd and Juno, which really were quite good. Cloverfield ended up being the love-it-or-hate-it film of the year. I happen to be on the "love it" side.



Worst Film:

I went through most of this year believing that the title of worst film would go to Jacky Woo's hilariously misguided Half-Blood Samurai or to the Sci-Fi TV Movie that made it into our theaters, Mega Snake, but then the year ended with the baffling Lalamunan. I don't really want to harp on how bad this movie is. One cursory Internet search will probably yield the trailer, which will tell you everything you need to know.



Whatever Happened To:

The Orphanage? The trailer was in theaters as early as 2007, and the poster was up even earlier than that. It never got a full theatrical release, though there was a Halloween screening at the Spanish film festival, albeit in DVD form. The Orphanage is a terribly good movie, and we all lost out for not having it in our theaters.



Guilty Pleasures:

I say "guilty," but there isn't really a lot of guilt involved. Schlock can be great, too, in its own wonderful way. Neil Marshall's Doomsday had all the cannibal action and horse vs. car matchups that I didn't know I needed. Marc Schoelermann's Pathology was so committed to its own decadence that it turned out to be fun. And there's Mutant Chronicles, which by all accounts ought to be horrible, but turns out to be okay, and at times, downright awesome.



Biggest Disappointment:

Baler. That it won all those awards for the MMFF only reinforces the fact that those awards are meaningless. I really shouldn't have expected much in the first place, but I got caught up with all the names attached to the project. Between Phillip Salvador and Joel Torre and Rio Locsin and a bevy of great young talents, the acting should've been phenomenal, but it wasn't. Director Mark Meily was behind a couple of my favorite local films in the last decade, but so little of that voice was actually on screen. There was money behind the picture, too, but it never seemed to fill in the details. All in all, a heartbreaking experience for me.

Still to come: A look at the big movies coming out in 2009.