From David Frankel, director of the worldwide smash hit "Devil Wears Prada" comes "Marley and Me" starring Jennifer Aniston and Owen Wilson, an endearing roller coaster story of a growth of a family where a dog plays the catalyst.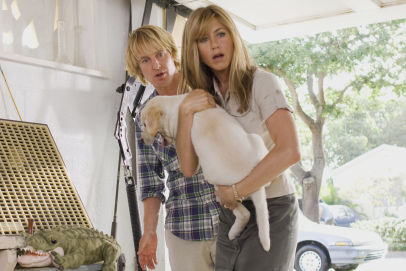 Adapted from John Grogan's book "Marley & Me" and its universal themes of marriage and family resonated to millions of readers, from all walks of life, propelling it to the top of the best-seller charts. "People from all over the world wrote me letters about how the book mirrored their lives," says the author. "[Those connections were] somewhat accidental; I just stumbled on that. But many people, of course, do fall in love, get married and build families, and that's what "Marley & Me" is about."
In the movie, newlyweds John and Jenny Grogan (Owen Wilson and Jennifer Aniston) decide to leave behind the harsh winters of Michigan and head south to begin their new lives in West Palm Beach, Florida. They obtain jobs as journalists at competing local newspapers, buy their first home, and begin to make their way through the challenges of a new marriage, new careers and, possibly, the life-changing decision to start a family.
Unsure of his preparedness for raising children, the Grogans decided to adopt Marley, a cute, twelve pound yellow Labrador, who in no time at all, grows into a 100-pound steamroller of unbridled energy that turns the Grogan home into a disaster area. He flunks obedience school, chews off dry-wall, takes a bite out of the sofa, overturns garbage cans, steals a Thanksgiving turkey, consumes pillows and flowers, drinks toilet water, and chases the UPS guy. Even a newly-purchased, expensive necklace isn't safe from Marley's voracious antics.
Amidst the mayhem he generates through the years, Marley sees the Grogans through the ups and downs of family life, through job and home changes, and most of all, through the myriad challenges of a growing family. As John and Jenny come to realize, Marley – "the world's worst dog" – somehow brings out the best in them.
While the book and film feature a dog's name in the title, they tell much more than a story about said canine. "[Marley & Me] is not a dog story," says Grogan. "When I wrote it, I didn't think of it as a dog book, and I still don't. I saw it as a growth-of-a-family story, with the dog being a catalyst. It's a comedy with a poignant side to it."
Director Frankel echoes the author's sentiments, "The story is about the highs and lows of being young and in love and encountering the challenges of marriage. It also deals with the dreams that get sacrificed for the joys of children, and about the challenges of balancing career and family."
Though "Marley and Me" is not a "dog story," the titular pooch is certainly a major player in the tail…er…tale. Noting Grogan's description of Marley being a "catalyst" in the Grogan family dynamic, Frankel points out that "the story tells us how important a dog's perspective can be to us – and specifically to the Grogans. Dogs are wonderful because they don't think about the future or the past; they know only the joy of living in the present. And humans, sadly, often forget that."
"Marley and Me" opens February 4 in theaters from 20th Century Fox to be distributed by Warner Bros.