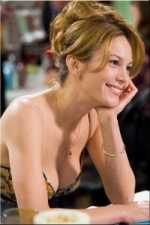 Well-respected for her remarkable range of dramatic and light comedy roles, from "Unfaithful" that earned her both Oscar and Golden Globe nominations, to the box office hit "Under the Tuscan Sun," Diane Lane is pleased to return to the romantic comedy genre with Warner Bros.' "Must Love Dogs" where she uses her sense of humor to connect with audiences.
Based on the best-selling book by Claire Cook, "Must Love Dogs" follows the comic, bumpy and ultimately rewarding journey of a woman cautiously rediscovering romance and learning to trust her own instincts again. Because, as her family enthusiastically reminds her, it's never a good idea to give up on love.
In the film, Sarah (Lane), a divorced preschool teacher who has sworn off dating after her bad breakup, finds her family pushing her back into the dating world. Her sister places a personal ad for her, declaring that anyone answering it "must love dogs," despite the fact that Sarah doesn't own a dog herself. When someone intriguing responds to the ad, she decides to borrow her brother's dog, and plunge in.
"As Sarah, Diane's flair for comedy meshes perfectly with the hilarious script about a modern woman's quest for romance and a soul mate in a world where both are in short supply," says producer Jennifer Todd. "Her timing is sharp and you really pick up the underlying self-deprecation in Sarah's remarks."
"Sarah is essentially a good girl," says Lane. "She was willing to remain in a marriage even though there weren't any fireworks, and is genuinely surprised when it's her husband who bails out. Truth is, she's never really found the love of her life. But the best thing about Sarah, never mind her current state of mind and the fact that if she didn't have a job she probably wouldn't get dressed for a month, is that she is still open to possibilities. She's willing to try again, which is the most important thing." All she needs is a little push to get started.
Director Gary David Goldberg credits Lane for her impeccable timing and a flair for physical comedy, as well as her more subtle ability "to play in the realm of heightened reality while never leaving the ground. For Diane to be funny, she doesn't have to step outside herself and present you with a totally different character."
Lane warmed to the role from her first script reading, recognizing amidst the laughs the ring of truth the story delivers to "so many people who are realistically looking to meet someone special and facing the frustrations that entails. The fact is, there are more women looking for love than there are available men and there are a lot of people, men and women, who are investigating dating services for the first time. It's a story people can relate to."
Opening soon across Metro Manila, "Must Love Dogs" is distributed by Warner Bros. Pictures, a Warner Entertainment Company.