Before she started filming the gripping period drama Changeling with Clint Eastwood, Angelina Jolie admits that she was a little nervous and couldn't help wondering what the legendary actor and director would be like to work with.

"You kind of have this idea of Clint Eastwood," she says. "Like you have an idea of all these great people, and you think 'oh I hope he's really cool, I hope he actually turns out to be everything that I want him to be.' Because you don't want to be disappointed, I mean, it's Clint and he's a legend, right?"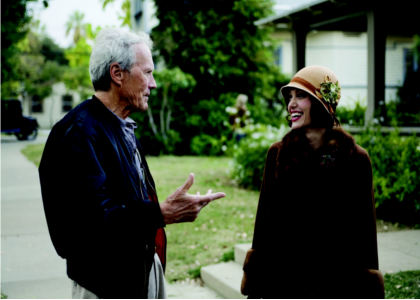 Jolie is delighted to report that Eastwood exceeded her expectations – both as a director and a man. "He is a hundred times what you would expect – he is that and more. He is such a wonderful guy. Actually, you would wish he would run for office because he's such a great," she laughs.
Eastwood directs Jolie as Christine Collins a young, single mother who refuses to give up hope in the face of daunting adversity when her 9 year-old son, Walter, goes missing while she is out at work.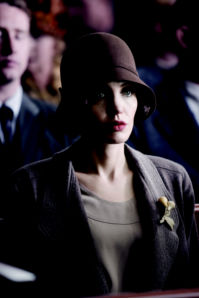 Remarkably, Changeling is based on real events that happened in 1920s Los Angeles, which led directly to the downfall of high-ranking officers running the city's corrupt police department and ushered in a new era.
"Inside our scripts they included all the front pages with all the stories about the case from back in 1928 and thank God they did or else you would have thought 'this is too bizarre to be true,'" notes Jolie.
"And I do think that if it wasn't real, it couldn't be a movie because you would think somebody went crazy with an idea and made all of this stuff up. To know that this really happened and to see the actual evidence of it is incredible."
After months of anxiously waiting for news of her son, police tells Collins that they have found him in Illinois, safe and well, and that he had been on the road with a drifter. But when she turns up to collect him at the local railway station – with press on hand to record the event – she instantly knows that the boy, although physically similar, is not her son even though officers, desperate to bask in the glow of positive publicity, insist that he is.
This haunting story unfolds against the backdrop of a city driven with political and civic intrigue where a brutal police force is run on the whim pf a crooked chief who is desperate to get some good press in the hope of clinging onto power.
What follows is a remarkable chain of events where one woman draws on extraordinary inner strength and refuses to buckle in the face of remarkable pressure – even when she is up against the might of dishonest civic system out to destroy her.
The corrupt officers stop at nothing to try and break her will – at one point even having her committed to a mental asylum. But Collins refuses to give up hope of finding out what has happened to the son she adores.
For Jolie – a brave, intelligent woman who has visited many of the world's trouble spots in her role as a UN Goodwill Ambassador – a big part of the acting challenge was forcing herself to shed contemporary attitudes and get into the mindset of a working class woman – and therefore a second class citizen – back in 1928.
Jolie revealed that the key to playing Collins was drawing on the memory of her own mother, the late actress Marcheline Betrand who passed away last year after a battle with ovarian cancer.
"It was hard to find her at first," she says of playing Collins. "It was a bit strange, especially for me because my natural instincts would be to start screaming and yelling and attacking if I came up against something like this."
"But when I was playing her I very much had my own mother in mind. My mother had this way about her, she was so gentle and she didn't like to scream, and to challenge authority wouldn't have been comfortable for her – she was just a very sweet person."
"And yet if you were to take her kids she would have been just like Christine, she would have found her strength somehow in order to do what was needed to be done to try to get her son back even though it wasn't in her nature."