One of today's most-watched actors, Brad Pitt reverses the aging process in Warner Bros.' new critically-acclaimed romantic drama "The Curious Case of Benjamin Button." Hailed by Time Magazine as one of the Ten Best Films of 2008, the movie tells the story of a man who is born in his eighties and ages backwards. The film also recently earned a leading five Golden Globe nominations, including Best Picture, Best Director and Best Actor for Pitt.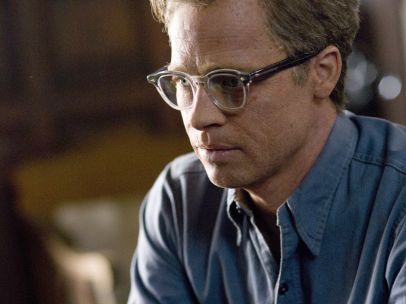 "I am pleased to be nominated for this award and would like to also congratulate [director] David Fincher, [screenwriter] Eric Roth and [composer] Alexandre Desplat on their nominations," Pitt said in a statement after the nominations were announced. "We're all very proud of the film and thankful to the Hollywood Foreign Press for recognizing our work."
For Pitt, the only way to play the Benjamin Button was all the way through, at every age, which posed one of the film's most daunting challenges. "Brad was only interested in playing the part if he could play the character through the totality of his life," Fincher explains. "Our producers Kathy Kennedy and Frank Marshall were more than mildly curious how we were going to do that. I said, 'I don't know, but we'll figure it out.'"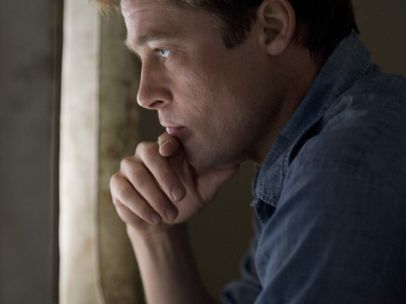 Pitt's draw was also in the journey Benjamin takes. "Many actors weigh a part based on what their character gets to do," says Fincher. "Well, Benjamin doesn't 'do' a lot, per se, but, man, he goes through an enormous amount. Brad was the perfect person. It's the kind of role that would be passive in lesser hands."
The role presented Pitt with a complex challenge unlike any he has faced in a film – to communicate the character's inner growth as he reacts to others he encounters throughout the film. "Benjamin Button's journey is a very interior one," says co-star Cate Blanchett. "Despite the obvious physical demands the role placed on Brad as an actor, the trick was playing a character that listens and is present and reactive to everyone in the movie."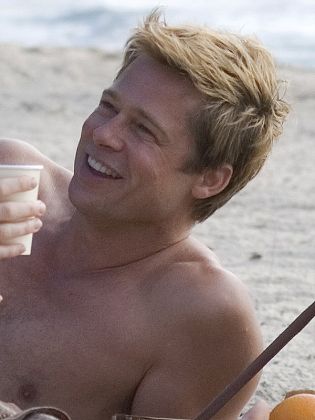 "It's perhaps the stillest performance Brad has ever given," Fincher adds.
Roth points out that Pitt also grounded the extraordinary aspects of the character with his own essential humanity, "The bravura of this performance is that Brad plays him as this sort of 'everyman.' I think from his own life, Brad found an affinity for this character that transcends acting the role. He understands what it's like to live a different kind of life."
"Benjamin is like a cue ball and all the people he collides with leave marks on him," says Fincher. "That's what a life is – a collection of these dents and scratches. They are what make him who he is and not anyone else."
"I like this idea of dents," adds Pitt. "People make an impact and leave some kind of an impression. There's something very poetic and accepting about that. It doesn't mean you don't fight for what you want. It means you accept the inevitabilities of life. People leave, whether by choice or by death, as you yourself will someday leave. How you deal with this becomes the question."
Opening across the Philippines on Jan. 8, "The Curious Case of Benjamin Button" is distributed by Warner Bros. Pictures, a Warner Bros. Entertainment Company.