The future of the earth is in jeopardy in the thrilling new sci-fi drama "The Day the Earth Stood Still" as Keanu Reeves stars as Klaatu, an alien who comes to earth with a chilling warning.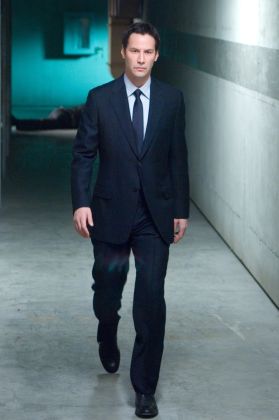 In the movie, unless people get the message that war and avarice do not work, humanity is doomed. Klaatu's arrival triggers not only fear and suspicion but also a global upheaval as international leaders and scientists try to discover who he is and what his presence signifies. This contemporary reinvention of the 1951 classic is timely, intelligent and enormously entertaining. The movie also stars Jennifer Connelly, Kathy Bates & Jaden Smith.
Keanu Reeves discusses his enthusiasm for "The Day the Earth Stood Still" and reflects his love of science fiction, his career and his passions away from the big screen in the following q&a: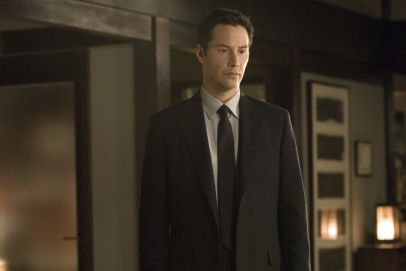 Q: Were you familiar with the original film when you were approached about this one?

A:
"I loved the original. I saw it first when I was 14 or 15 on a black and white television. I might have seen it one other time growing up and then I watched it when I was approached to do the remake. I remember as a young boy enjoying the spectacle, the drama, the flying saucer, the scary music, the power when everything stopped in the world, but watching it again I observed the sly, clever social commentary about the media and the world."
Q: How challenging was this role physically for you, playing an alien?

A:
"In the early part of the film he is more alien than human. I guess a large part of the story is about whether this entity, this alien, will change its mind and how it becomes more human and starts to relate to humans. So we decided that in the beginning he should just be very different. That involved having no natural human gestures or behavioral signs but appearing more flat and expressionless. I found that physical aspect very challenging. I had to just try to be still and that can be an effort, trying not to move. It felt as though there was a lot of compression. After a fifteen-hour filming day you want to jump around, take a bath, anything, I had to relax afterwards because while I was acting it felt clenched all the time."
Q: Can you explain anything about the plot?

A:
"I come to Earth and ask to meet with the UN (United Nations) and I am denied that. So then I make other decisions. Basically the Government is after me. Kathy Bate's character is quite a hawkish personality who wants to get information out of me. Jennifer Connelly is a scientist. So we have a journey together. The story is different from the 1951 film because the original Klaatu was saying to people on Earth. The threat in this film is kind of implied but I do not want to give away too much of the story."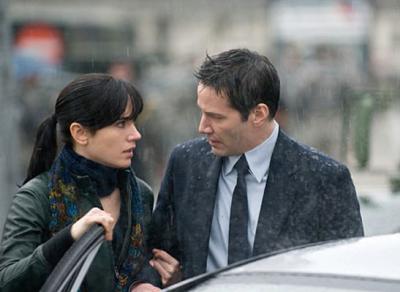 Q: Is there a sci-fi character you would have liked to play but didn't?

A:
"I have to admit I had a little actor envy when I did not get to play Wolverine. (X MEN). I did not mind those claws and I liked his fortitude and his honor, I loved Frank Miller's four part series on Wolverine--that was pretty cool."
Q: Keanu what is your view about life on other planets?

A:
"I've met people who have seen UFOS and experienced their cars shutting down, I don't know anyone who has ever been abducted. But I imagine there must be life outside our planet. How could there not be? The universe is so vast. I guess a lot of people think to themselves: 'I don't believe in extra terrestrial life until I see evidence with my own eyes and if aliens are here why don't they land in Central Park like my character does in the film? If they are here then why don't they show themselves? But I think the idea that life doesn't exist anywhere but here is crazy."
Q: How much involvement did you have in the development and direction of the film?

A:
"I had the opportunity to work with the director and the writer David Scarpa for about five weeks altogether. We worked on the script and went through it and tried to make sure it made sense and was entertaining. I worked on the overview of the script. I watched out to make sure nothing was cheesy and we kept asking ourselves: Is this credible?"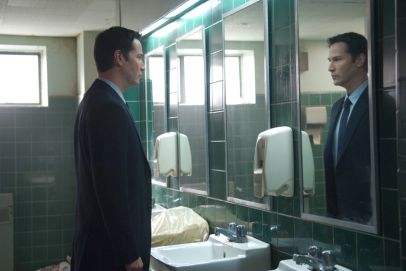 Q: Back to the film Keanu, what would you like audiences to come away with when they go to see 'The Day the Earth Stood Still'?

A:
"I hope they are entertained and enjoy the film and when they go back out into the world that they have something to think about, to reflect upon, and hopefully the film will have some kind of positive impact."
Intelligent, talented and versatile, Keanu Reeves is a bona fide movie star but also a consummate actor who has always forged his own highly individual path, never allowing himself to be pigeonholed by Hollywood. Studying Shakespeare at drama school and working in theater, he displayed his skills early on in his film career with riveting performances in "River's Edge" and "My Own Private Idaho." He was catapulted into the limelight in "Bill & Ted's Excellent Adventure" and "Bill & Ted's Bogus Journey," as well as "Point Break."
Reeves has constantly sought challenge and variety in his work. "Speed" cemented his position as an action star; "Much Ado About Nothing" and "Little Buddha" proved his range as a serious dramatic actor. And the MATRIX films (all massive blockbusters) continued his massive popularity with worldwide audiences. His many film credits include "The Devils' Advocate," "Bram Stoker's Dracula," "Dangerous Liasons," "Parenthood," "I Love You to Death," "Hardball," "The Gift," "A Walk in the Clouds," "Something's Gotta Give," "Constantine," "The Lake House," "A Scanner Darkly" and "Street Kings."
"The Day the Earth Stood Still" opens December 11 in theaters nationwide from 20th Century Fox to be distributed by Warner Bros.