From the moviemakers who gave us blockbuster romantic comedy hits like "Legally Blonde," "10 Things I Hate About You" and "13 Going On 30" comes "Bride Wars" starring Hollywood's trendiest, Anne Hathaway and Kate Hudson.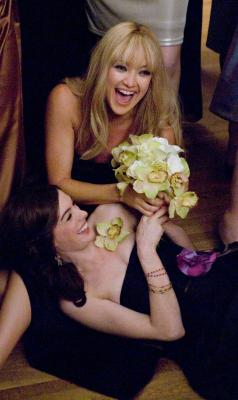 In the movie, Hudson and Hathaway play best-friends-forever until a life-changing situation put their friendship to a test. Liv (Hudson) is a feisty lawyer who goes after and gets what she wants. She is a perfectionist who accepts nothing but the best, especially on her wedding day. Emma (Hathaway) on the other hand is a conventional junior high school teacher who has always been a push over. Her wedding is something she has been dreaming of since she was a little girl and will do everything to make her dreams a reality.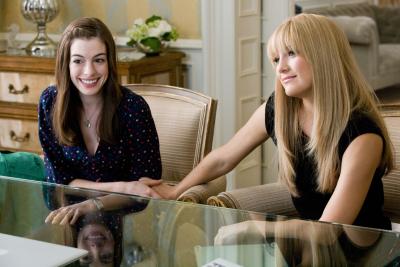 Best friends since childhood, they are always there for each other, through good times and bad. They even become engaged to be married within a few hours of one another. Together they plan their respective weddings, each to take place at New York's ultimate bridal destination and their lifelong dream location, the Plaza Hotel. But a clerical error and subsequent clash in wedding dates pits the two brides – neither of whom will step aside – against each other, in a competition that quickly escalates into all-pout war.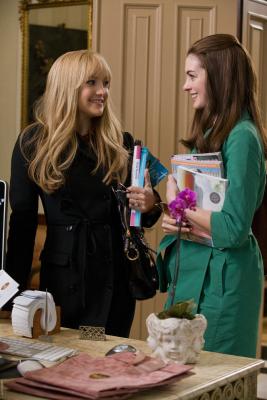 "Bride Wars" is directed by Gary Winnick ("13 Going on 30") and written by Kristen Smith ("Legally Blonde," "10 Things I Hate About You" and "Ella Enchanted"). Rounding out the cast are Bryan Greenberg ("October Road"), who plays Liv's brother, Nate; Steve Howey (Daniel); Chris Pratt (Fletcher); Michael Arden (Kevin); John Pankow (Emma's dad); and Paul Scheer (Nicky Coo/Dr. Dance).
"Bride Wars" opens very soon in theaters nationwide from 20th Century Fox to be distributed by Warner Bros.