Mark Wahlberg
is hell-bent on revenge in the bullet-fired action flick "
Max Payne
." Wahlberg plays Max Payne as the tough homicide cop who becomes involved in a relentless quest for justice that is dark and dangerous following the murder of his wife and newborn baby. A man with a one-track mind, sitting in a day job (in the police force's 'cold case' department) from 9 to 5, he is hunting the streets at night in his quest for revenge. He has nothing to lose and will break any rules and risk his own life as he delves deeper into a terrifying underworld. Facing betrayal and danger, Max Payne is on a tireless and challenging journey that will test his strength and every cell of his being.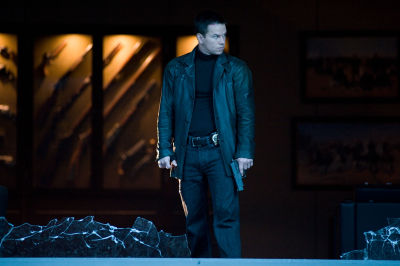 Based on a video game, this neo-noir , mythological action thriller, also starring Mila Kunis and Chris O' Donnell, is a riveting ride. Wahlberg takes us further in the movie's twist and turns with the following q&a:
Q: What was the attraction of MAX PAYNE for you?A:
"I liked the story and character. I had just made "The Lovely Bones," which involved a similar situation with a parent losing a child but the character in that film is completely different. It was great making MAX PAYNE because I could get out there and do what the bad side of me would do, if something like that would, God forbid, ever happen to my family. I wanted to play a character who is just completely bad ass, who is ruthless in his mission to get the kind of information he needs to solve this horrific crime."
Q: MAX PAYNE is based on a video game. How similar is the movie to the game?A:
"I read the script before I even knew it was based on a game, and then I looked at the game and I liked it. The film does the game a lot of justice but I had never played a game like it. The games I grew up playing were like Pac-Man that had no story whatsoever, whereas MAX PAYNE has a very elaborate story. So it is definitely going to satisfy the die hard game fans and hopefully will also bring in film audiences; maybe they will become fans of the game as well."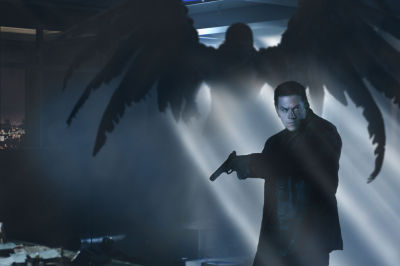 Q: Directors say you have an authenticity that is not common among actors. How much of that stems from your own youth and background on the streets of Boston? Is the realism of a part like MAX PAYNE fuelled by what you have gone through?A:
Definitely. It wasn't until recently that I appreciated all the things I had to go through to get to where I am now. I have a lot of real life experience to draw from. That helps me as an actor and I think that's why people respond to me in this kind of film."
Q: Why are you so good at playing cops? A:
Because I've been arrested by them so many times and because there is a very fine line between cop and criminal. I'm not saying that is true of every cop, but some of the guys I grew up with became cops and they did worse stuff than I did. I think the cops are also the ones who have really hard lives."
Q: How much action is there and how tough was the film for you?A:
It was harder than anything I've done, harder than movies like "Fear," "The Departed" and "Shooter" – times ten. Most of the action was shot on film with very little CGI (computer generated effects). You don't see me hanging off any wires or anything like that. So anytime you see me flying through the air, I was actually jumping off something or landing on the ground. That was me in action."
Q: Do you sometimes have to pinch yourself as a reminder of much your life has changed?A:
"Of course. Every single day the first thing I do when I wake up is to thank God for all the beautiful blessings that have been bestowed upon me. When I pray, I ask for the will and strength and courage and confidence to do the right things in my life. I know I have been put in this position for a reason and it is important not to forget about where I came from. It is my job to help other kids who are in similar situations, who are going through what I went through. I want to try to motivate them and inspire them. Hopefully through my foundation they will be able to pursue their own dreams, just as I have done."
Born and raised in Boston following some tough teenage years, Wahlberg discovered an intrinsic talent and passion for acting. His early films were "
Renaissance Man
," "
The Basketball Diaries
" and "
Fear
." He made his name internationally in director
Paul Thomas Anderson
's highly praised film, "
Boogie Nights
." He went on to star in "
Three Kings
," "
The Perfect Storm
" and "
The Italian Job
." Wahlberg was nominated for an Oscar for his role in
Martin Scorsese
's drama, "
The Departed
." His recent films include "
Shooter
," "
Four Brothers
," "
The Happening
" and "
We Own the Night
."
He is also the executive producer of HBO's award winning TV show, "
Entourage
." A committed philanthropist, his organization, the Mark Wahlberg Youth Foundation, works with inner city youth.
"Max Payne" opens October 15 in theaters nationwide from 20th Century Fox to be distributed by Warner Bros.
I'm looking for Max Payne.