Russell Crowe
fights terrorism at all costs in Warner Bros. new explosive action-thriller "
Body of Lies
" from director Ridley Scott ("American Gangster," "Black Hawk Down"). Leonardo DiCaprio also stars.
The film tells the story of a young CIA agent attempting to turn Iraqi terrorists on themselves, but Crowe said the bigger picture is its timely message. "I think the perspective of 'Body of Lies' is ongoing," he says. "It's machinations and creations of the American government, in terms of its foreign policy. I don't think it's so responsive to what's happening now — because what's happening now is actually the fruit of seeds planted two or three decades ago, if not more. But I think it's timely to do a movie like that... it's important, and Ridley is up for [portraying] the true negatives of this web of intrigue that's been created."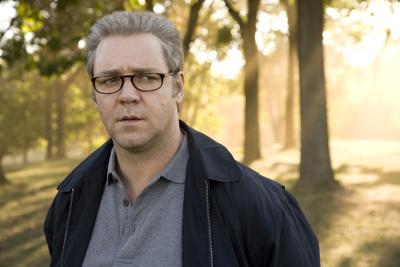 Crowe adds that he believes the film will be very popular. "But that's never been part of my project choice process," he states. Scott was more blunt. "Do I think it's a commercial movie? My gut tells me it's a commercial movie," he says. "I think a lot of recent Iraq war movies were jingoistic. This one isn't. The audiences smell that."
Adapted by William Monahan, the Oscar-winning screenwriter of "The Departed," from Washington Post columnist David Ignatius' intricately plotted espionage novel of the same name, "Body of Lies" presents the most stinging screen portrayal of American foreign policy by any Hollywood studio movie in recent memory. DiCaprio portrays Roger Ferris, an idealistic field agent operating out of Iraq and Jordan who resorts to elaborate subterfuge -- concocting a fictitious sleeper cell and staging a mock bombing -- to flush a terrorist mastermind out into the open.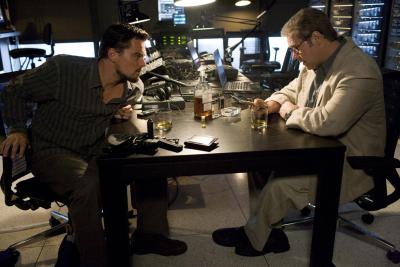 Crowe plays Ed Hoffman, the veteran stateside CIA bureaucrat who thwarts Ferris' progress at every turn with his own covert missions and unquenchable thirst for power. And along the way, American spies torture a suspect, innocent people's lives are ruined via satellite downlink and foreign nationals who cooperate with the agents wind up being sacrificed in the name of homeland security.
It's a deliberate throwback to Nixon-era conspiracy thrillers, films that spotlighted American political skulduggery and corruption. "To make a highly intelligent film with today's politics: That was the objective," DiCaprio says. "This movie could -- not necessarily say something about the state of the world, but -- take grasp of where we are in history right now."
The film offers plenty of other visceral stimulation as well, tautly paced around shootouts, car chases and lushly photographed explosions. But Scott says the intensity of the two actors is what makes it special. "What I'd emphasize is the fascinating two characters that are walking through this piece," Scott notes. "In a nutshell, it's about trusting no one and believing no one."
Opening across the Philippines on Oct. 9, "Body of Lies" will be distributed by Warner Bros Pictures, a Warner Bros. Entertainment Company.


I'm looking for Body of Lies.