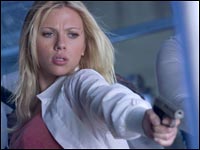 Winner of the British Academy Award for Best Actress for her poignant performance as a lonely wife in "Lost in Translation," Scarlett Johansson talks about Warner Bros.' upcoming "The Island," a riveting sci-fi action-thriller directed by Michael Bay ("Armageddon") and co-starring Ewan McGregor ("Star Wars: Episodes I, II & III").
"The Island" tells the story of escapees Lincoln (McGregor) and Jordan (Johansson) from a colony of clones 20 years in the future.
The clones, who actually believe they are the survivors of an apocalypse, think that The Island is the last uncontaminated spot on the planet--until Lincoln makes a terrible discovery that everything about his existence is a lie and that he is actually more valuable dead than alive.
Now, with the forces of the institute that once housed them relentlessly hunting them down, Lincoln and Jordan engage in a desperate race for their lives.
Johansson recently sat down with a panel of journalists to discuss "The Island." Excerpts from the interview follow:
Question: 'The Island' is unusually big-budget for you, so why did you choose it?
Scarlett Johansson:
I was in the middle of doing "Match Point" with Woody Allen, and we were gonna be finishing that. It was five weeks till they started production on "The Island," and I read the script when I was in London and it was just a great script, exciting and fun. I love genre movies when they're done really well and I think they accomplish what a film is trying to do, which is allow you to escape your life for a couple of hours.
I was in a world all of my own when I was reading this script, and I wanted to work with Michael Bay and Ewan.
Q: How tough was making this blockbuster movie?
Scarlett:
Making any movie is hard. I was talking to somebody about it in the middle of shooting and we were saying that you have 200 people, we're all working and it's the kind of job where even if you've got the flu and you have a 103 fever, you have to come to work, because time is money when you're making a film. People work harder in film than most jobs, because it's just that kind of intense work for five months or whatever.
Q: So, you were pushed to some personal limits on this film then?
Scarlett:
Kinda yeah...it was very physically exhausting, as we were running around all the time. We'd work 14 hours a day and then we'd get off work and hit the gym for two hours. But once you start doing that after a couple of months, you just go into sort of this mode that allows you to just keep getting up at 5:30 and going to work: you just do it.
Q: Are there any comparisons to be made between Michael Bay and Woody Allen--who represent the opposite extremes of American cinema?
Scarlett:
I don't know that there is a comparison you can make between Michael and Woody. Let's put it this way, when I told Woody that I was doing a Michael Bay movie, he was like "Who?" I mean, he's totally separated and is such a snob. I told him, I said "You've got to see 'The Island' when it comes out. It's gonna be great. It's a really great science fiction movie."
He goes, "Oh, I like science fiction." We'll see if we can get him to the premiere. But, I love working with Woody. He's a dream. I think I'd be happy working with him for the rest of my career. We had a fun time working together and now we're working together again."
Q: Tell us more about your beliefs on Stem Cell which "The Island" touches on.
Scarlett:
I think that there's a lot of wonderful possibilities erupting. I mean, if they could eliminate diseases like Alzheimer's and polio that would be incredible. On the same note, people may say you're playing with fate or the idea of people creating a master race or being able to choose their children's eye color--and that seems quite strange to me. However, I think that the positive outweighs the negative.
Q: Finally, how's your private life doing these days?
Scarlett:
There are certainly negative things about being a public face: People following you to the doctor's office to take pictures of you never used to happen. There was a certain standard that pop culture has become culture, so the more that people buy into tabloid stories and tabloid magazines, it makes our lives at times feel impossible. I mean it's weird to go for a walk with your brother and have people say that it's your boyfriend and to take pictures of you when you're in a private moment. It's strange and I can't make that adjustment. I refuse to adjust to that, because adjusting to that means being a hermit and never leaving your house.
I was having a conversation with somebody the other day. He was like, "You can't walk around New York alone. You have to get a bodyguard." I said, "I'm from Manhattan. I'm not going to walk around with people. I know this city like the back of my hand." I refuse to adjust to something like that.
Opening soon across the Philippines, "The Island" is distributed by Warner Bros. Pictures, a Warner Entertainment Company.