Born in Miami, Florida, 23-year-old Natalie Martinez is a Cuban-American actress and model. She is best known for her role as Michelle Miller on MyNetworkTV telenovela, Fashion House. She is also the spokes model for JLO by Jennifer Lopez. Starring as the sexy navigator, Case, Death Race marks her feature debut…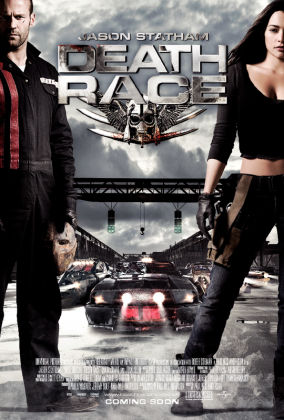 Q. Tell us a bit about what you do in the movie…


I am Jason Statham's navigator. I hope I get to fire a few machine guns! We also plan to do some of the stunts. I clamber out of the ejector seat in one scene, and fiddle with the guns mounted on the car. I love it. I love guns! The whole action thing is a lot of fun; it's very hands-on and I feel the adrenalin surging. I like cars a lot, too. I love the Mustang, the rawness and meanness of it. I also like the Buick. The role's been great. I did some physical training back in LA, and I also trained out here with Jason's trainer. It's just fitness work and helps give me a tough girl attitude.
Q. Do you get to drive any of the cars?


I can't drive stick, so that's been a bit of a problem. If I could I would!
Q. What are your navigational skills like?


They're pretty on point. A lot of trust from the driver is put on the navigator; the guns, the oil, the napalm, while he focuses on the track. I can very easily navigate the race and manipulate the race in certain ways. In real life, I'm quite a good driver, too. I've got a good sense of direction. I'm no good at north, south etc, but I'm good at directions!
Q. What's the exact relationship between your character and Jason's?


There's nothing going on but the fact that I'm his navigator, although there is perhaps a slight hope or suggestion of romance. We are in prison together so there are no actual love scenes, but there's some link between us. You can't trust anyone in this place, and I think that we get a bond of trust going. There's flirtation around.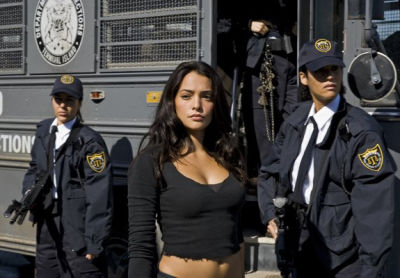 Q. So how does your character get involved in the racing?


The prison governor, Hennesey [Joan Allen] sees that I'm the most attractive female prisoner, so she realises that will be good for ratings when the race is screened on TV. So it's mostly for ratings. Hennesey is very manipulative and she knows that because my character's young and has quite a lot of life ahead of her, she'll take the risks in the race to try and earn her freedom. Hennesey gives me that hope, and I do as she asks. Women are often navigators in the races, because they're lighter and are attractive.
Q. What do you think of shooting in Montreal?


I love it. I've had some downtime and if I'm not here on set I just walk. It's a very safe place to walk around. I love going down by the port, to sit under a tree, and watch all the rollerbladers. I've been to a lot of restaurants and everyone's been really helpful and inviting. Plus the weather's been great! It's a beautiful town.
Q. And did you hang out with your racing team in particular?


Actually, yes. I've hung out one on one with all the cast members, but with the Monster crew we often go out for dinner, with Jason and Ian McShane, who's the Coach. We're all in the same hotel, and it's fun, because it helps build the feeling of family. Coach is like the father figure, the uncle who takes us under his wing. There has to be trust among the team.
Q. Does your character get into any fights, or get knocked around at all?


Only in the cars; and she gets hurt by flying car debris, but she doesn't get involved in any physical fights. It's just in the car when racing, because you have to act on impulse. She can't worry about breaking her nail!
Q. It looks as though you have some tattoos of your own…


I do. I have a skull. I like skulls. They mean rebirth to me, new life. I also have a scar, which I've had from being two years old, from my eyeball all the way down. My parents are Cuban. We kept chickens and one of the roosters went a bit crazy and attacked me. So a chicken scarred me! How uncool is that? But they're going to use the scar in the movie somehow. Now I'm older and have done okay, my grandma is always saying I should get it fixed, but I kind of like it! It makes me hard. I like the little imperfections.
I'm looking for Death Race.