Gillian Anderson In The Latest X-Files Movie
posted on

Mon, 21 Jul 2008 12:00 AM
Gillian Anderson
returns in the latest X-files movie – along with the skepticism, brilliance and strong personality. In "
The X-Files: I Want To Believe
," Anderson reprises her role as Agent Dana Scully – together with David Duchovny as Agent Fox Mulder where they face the most challenging investigation of their careers. This time, as they uncover more and more about the case, it becomes clear that it is grim and gruesome – human but also inhumane. They are embarking on a journey that tests them as individuals and puts their relationship with each other to the test.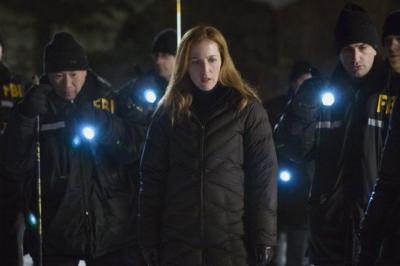 Gillian Anderson, 39, was born in Chicago and spent part of her childhood in London. She spent several years appearing in stage productions, including Alan Ayckbourn's play ABSENT FRIENDS and Christopher Hampton's THE PHILANTHROPIST. She moved to Los Angeles in 1992 for auditions and after several TV roles, landed the part of Dana Scully in THE X-FILES TV series when she was just 24. During her time on the series, Anderson won several awards including an Emmy, a Golden Globe and two Screen Actors Guild Awards.
Despite the massive popularity of THE X-FILES, which rapidly turned into a cult hit, she was never typecast and has proved her talent in a wide range of film roles such as "The House of Mirth," "The Mighty Celt," "A Cock and Bull Story" and "Tristram Shandy." She recently appeared in "The Last King of Scotland" and "Straightheads."
Q: Where is Dana Scully at this point in time when the film begins?

A:
"The last time audiences saw Mulder and Scully, they were in a very compromising position and they have successfully removed themselves from that position and removed themselves from anything that remotely resembles their previous lives. When you find them again, they have a slightly different energy about themselves and they have mellowed a bit but they are committed to what they are doing with their lives at this point in time. They are recognizable but not exactly the same."
Q: Did the chemistry return right away with David?

A:
"Well the chemistry with David is completely easy. It is something that we seem to do, to slip into, with our eyes closed. From the second we started working together, it was there. There's a lot of déjà vu. It took a good many hours to acknowledge the fact that 'here we are again' finally and wonderfully. We are both enjoying it so much."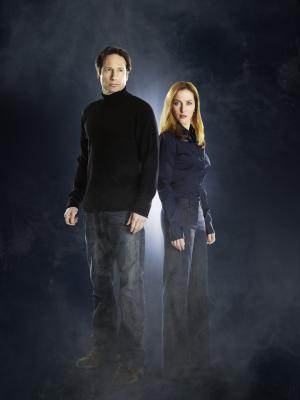 Q: How would you describe Scully for people who aren't so familiar with the character?

A:
"She is a very serious woman, a learned woman. At various times she has been a medical doctor, a forensic pathologist and an FBI agent. She is at the top of her field and she's very practical and pragmatic. She is a scientist and science is inside her. Her dynamic with Mulder is once again the same. He comes to her with ideas that she continues to challenge. She thinks he needs to be making sense of them himself. That aspect of their relationship continues."
Q: Are you open to the unknown, the mystical and spiritual side of life yourself, or do you share Scully's pragmatic approach to life?

A:
"I am much more open to the spiritual side of life than she is. At various times during the series though, her opinion about spiritual things shifted. They remained on a pretty straight course most of the time but there were times that she veered into a bit of spiritualism. On the whole though, she's much more closed minded and rigorous than I am. I'm a spiritual person but she's a Catholic, a devout Catholic and that's not part of my experience. That in itself dictates the differences between the two of us."
Q: Would you do more X-FILES films after this one?

A:
"I would love to. That is what we have talked about from the beginning. It would be great to do more films."
"The X-Files: I Want To Believe" opens August 13 in theaters nationwide from 20th Century Fox to be distributed by Warner Bros.
I'm looking for The X-Files: I Want To Believe.