Namets!
by

Trix Deseo

posted on

Fri, 11 Jul 2008 12:00 AM
A cockfighting bet causes Jacko to lose his Italian restaurant 'Puccini' to the moneylender Boss Dolpo, who then hires the free spirited and stubborn Cassie as the food consultant to give the restaurant a makeover. Romance buds between Jacko and Cassie, who despite the differences are bonded by their common love for food.
Directed by
Emilio "Jay" Abello
and written by
Vicente Garcia Groyon
,
Namets!
stars Christian Vazquez, Angel Jacob, Peque Gallaga, Dwight Gaston, and Monsour del Rosario in this feel good romantic comedy celebrating food and love.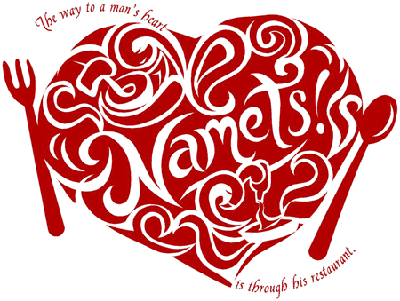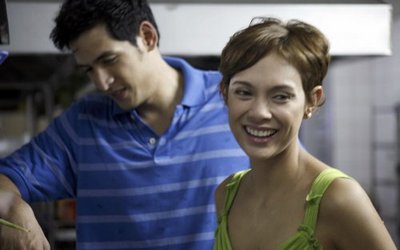 Christian Vasquez and Angel Jacob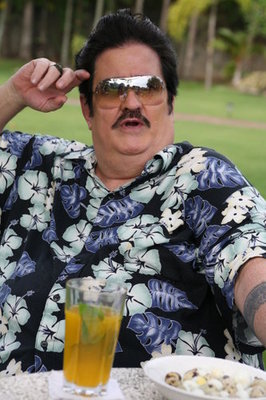 Peque Gallaga
"Namets is a movie about food and the food culture in Negros," says Jay, a proud Negrense, who also directed last year's Ligaw Liham. Like Ligaw Liham, it was shot entirely in Negros but this time, in Hiligaynon dialect. The film stars top Negrense actors except for TV Host and model Angel Jacob who had to learn to speak Ilonggo. "When Jay called me offering me a role in an Ilonggo film, I said yes right away," says Angel. "We recorded the dialogue in our iPods so she can practice it before she goes to Bacolod. She did it naman. She's now an adopted daughter of Bacolod," shares Ryan Diño, the production manager.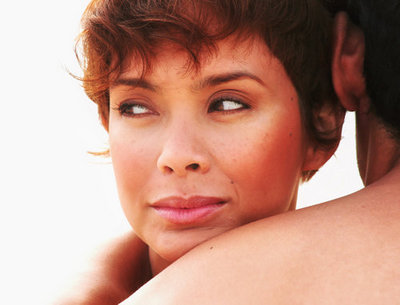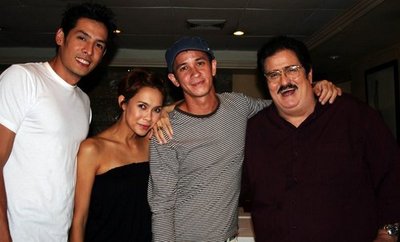 Direk Jay Abello with the main cast
I asked Jay where the concept came from and he gladly related how everything started. "It's from the insane world of Vince Groyon. He said, hey let's do a film
na
fun.
Wala lang
... Fun to do, very simple, and very
Ilonggo
. I'll do it. I'll write you a script...
Basta
it will be in the dialect.. and I said game!" Vince, who has done several award winning short films, novel and short stories, also hails from the same province. But according to Jay, the script Vince originally came up was far from the goody goody story of Namets!."We came up with the 'Bacolod Scandal!'
Haha
.
Yun yung lumabas
. It was a sex film. Very very nice," Jay relates. "And then Cinemalaya deadline came up. And I talked to Vince, this wont get picked. It's too 'sex'." Because both wanted to participate in the film festival, they agreed to revise the story. And since their primary aim is to write a story about Negros, what could be a better topic than it's strongest character: food.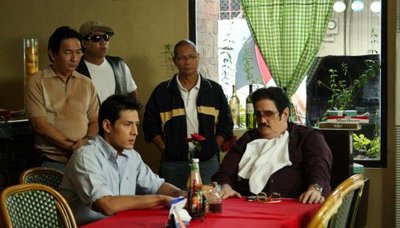 A scene from the film
Originally, Namets! didn't get in the list of feature length finalists. It was only last Febuary 19 when Laurice Guillen called Jay to replace another filmmaker who backed out. "We barely had 3 months to finish the film. That was such a challenge," Jay remarks.
Problems didn't end there for Jay. "The toughest part for me was staffing this whole film. When you shoot in Bacolod, it's a very small community of artists, and every summer there's this workshop by Senor Peque Gallaga. Everybody joins the workshops. You have to shoot before or after the workshops because the good people are either teaching in the workshop or attending the workshop. Because we were told February, we couldn't shoot March. It is either we shoot during the workshop or after, which is May." And since the film must be completed before the competition, he decided to already start production. "I am very proud. My LP (Line Producer), PM (Production Manager) and AD (Associate Director) were all firstimers, and they pulled it off.
Talagang grabe, gapang.
What they had
naman was grabeng passion
."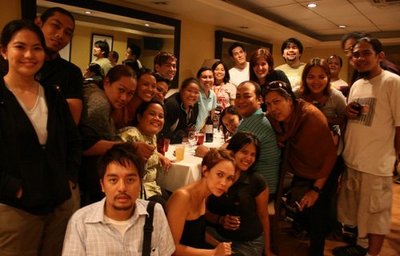 Cast and crew of Namets!
Since food is central to the story, producing the film also proved to be hard. "When you deal with food...
parang ano yan e... parang diva
. Big star. You can't hurry it. You can't let it wait. You have to light it properly...Very very tricky
siya
." Good thing there's their food consultant Chef Juan Miguel Gaston, one of the most successful in the province."We're very very lucky because, not only he is a chef, he is also a film buff. When we talk about our scenes, he knows what we needed. If he weren't a chef, he would be a filmmaker. He was so into it," shares Jay.
Contrary to most of the filmmakers I have interviewed so far, who consider location hunting as their biggest dilemma, Jay shares how they were blessed in this aspect. "We were given all the locations we wanted. And since we're doing a film about Negros, we had the support of the community. We were given it for free.
Dun panalo yung Namets eh
. Something you cannot shoot with an indie budget."
Why should people watch Namets!? "If you wanna read subtitles then watch our film,
Haha! It's the date movie for this year's Cinemalaya. It's the movie with no angst. So if you guys want to have fun, come out magaang... and hungry, watch our film." I don't know with you guys but to me that seemed a pretty good offer so I'll definitely watch. To those interested, catch Namets! on these dates:

Tuesday, July 15 - 6:15 pm - Tanghalang Huseng Batute
Wednesday, July 16 - 9:00 pm - CCP Main Theater
Friday, July18 - 3:30 pm - MKP Hall
Friday, July18 - 6:15 pm - CCP Main Theater
Saturday, July 19 - 12:45 pm - MKP Hall

Is your film a Cinemalaya 2008 entry? Have it featured in ClickTheCity! E-mail features@clickthecity.com for details. Press Releases may also be submitted through pr@clickthecity.com


I'm looking for Namets!