Adam Sandler: Commando Turned Hairstylist
posted on

Tue, 8 Jul 2008 12:00 AM
In Columbia Pictures' "
You Don't Mess With the Zohan
," a comedy from Adam Sandler and screenwriter Judd Apatow ("Knocked Up"), Sandler stars as Zohan, a top Israeli commando who fakes his own death in order to pursue his dream: becoming a hairstylist in New York. Though he wants to put his life of counter-terrorism behind him, he quickly finds that it is not so easy to escape one's roots. As enemies old and new try to take him out, they will all come to learn the same thing: you don't mess with the Zohan.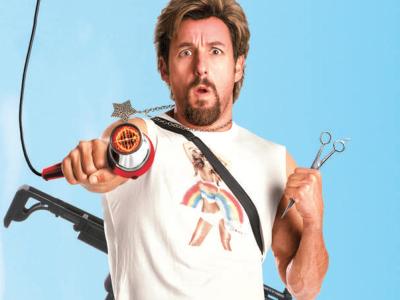 The Zohan's first stop in New York is the Paul Mitchell salon, where he takes on his cover identity: "Scrappy Coco." "Scrappy" expects to be hired but is mocked for his outdated ways. However, The Zohan is not to be stopped in his quest to make the world silky smooth.
After being rejected by salon after salon, The Zohan visits Israeli immigrant Oori (who promised to keep The Zohan's secret) at his electronics store, and is shocked to see that in this neighborhood, Israelis and Palestinians live side-by-side in relative peace. Oori knows just the place for The Zohan to get his foot in the door...a relatively run-down salon with an older clientele. There's just one catch: it's on the Arab side of the street. At first, The Zohan is hesitant – he came here to get away from the fighting, but can he actually work for a Palestinian? The salon's owner, Dalia (Emmanuelle Chriqui), has her own reservations – after all, "Scrappy Coco" has no experience cutting hair. In pursuit of his dream, The Zohan perseveres and Dalia relents. "Scrappy Coco" might just be sweeping the floor for no pay, but he is on his way…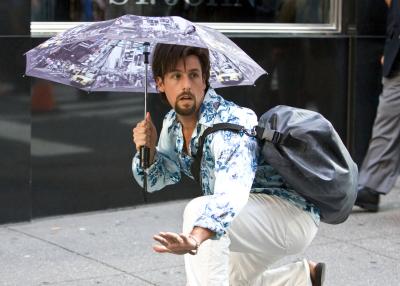 …and will soon get his chance when one of Dalia's hairdressers quits without notice. With his first client in the chair, The Zohan rises to the occasion. Though he is only capable of cutting styles from his ancient Paul Mitchell book, his client – enraptured by The Zohan's sexy talk and performance – loves the results. His dream is his destiny. Word soon spreads among New York's older women: see Scrappy Coco and you will leave satisfied.
Everything is going great for The Zohan. He is living his dream of making the world silky smooth. Business is booming, allowing Dalia to meet the exorbitant rent payments demanded by the block's new owners. He is even beginning a budding romance with Dalia. But trouble looms.
Salim (Rob Schneider), a Palestinian cabdriver with a long-held grudge against the former army commando, recognizes The Zohan from the old country and becomes determined to do him in. For The Zohan, this is a disaster – not because he is afraid, but because he came to America to put the fighting behind him.
Opening soon across the Philippines, "You Don't Mess with the Zohan" is distributed by Columbia Pictures, local office of Sony Pictures Releasing International.


I'm looking for You Don't Mess With the Zohan.