"
No Country For Old Men
," the acclaimed crime thriller that won four Oscars including Best Picture at the recent Academy Awards, will be shown exclusively at Ayala Malls Cinemas (Glorietta 4 and Greenbelt 3) starting April 9.
Starring Tommy Lee Jones, Josh Brolin and Javier Bardem (who won a Best Supporting Actor Oscar for his performance), "No Country for Old Men" is written and directed by Academy Award® winning filmmakers Joel Coen & Ethan Coen, based on the acclaimed novel by Pulitzer Prize winning American master Cormac McCarthy.
The film begins when Llewelyn Moss (Brolin) finds a pickup truck surrounded by a sentry of dead men. A load of heroin and two million dollars in cash are still in the back. When Moss takes the money, he sets off a chain reaction of catastrophic violence that not even the law -- in the person of aging, disillusioned Sheriff Bell (Jones) -- can contain. As Moss tries to evade his pursuers -- in particular, Chigurh (Bardem), a mysterious mastermind who flips coins for human lives -- the film simultaneously strips down the American crime drama and broadens its concerns to encompass themes as ancient as the Bible and as bloodily contemporary as this morning's headlines.
At the heart of "No Country for Old Men" are its characters – three men who inhabit a rapidly changing West -- a place where lawlessness has led to a brave new world of international drug running and where the old rules no longer seem to apply.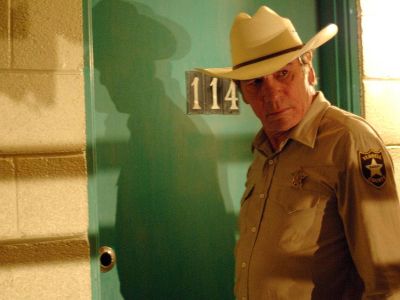 Tommy Lee Jones
plays Sheriff Bell, a philosophical lawman with a rock-solid moral foundation who is bedeviled by the advent of the drug trade's new breed of criminal and the violence it has brought to the land that he loves. Jones initially read McCarthy's book shortly after it was published and was intrigued even then. "Cormac McCarthy is arguably the best living prose stylist that we have in America," comments Jones. "His work raises intriguing questions for people who make films."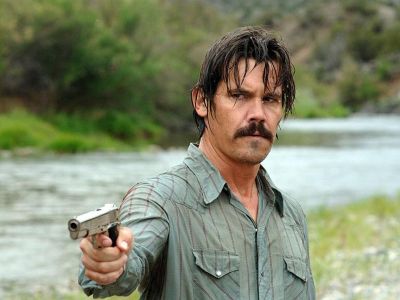 Josh Brolin
portrays Llewelyn Moss, the army vet who quickly gets himself in a jam when he decides to take a potentially life-changing stash of drug money, but more for love than greed. Brolin is another big McCarthy fan who read the novel long before the screenplay. "This book is one of the most amazing, violent and perfectly vernaculared stories that I've read in a long time," Brolin says. "Even though it's a linear story, just the structure of it was incredible. I just love the trio of Moss, Chigurh and Bell, and how it seemed like it was one person split three ways."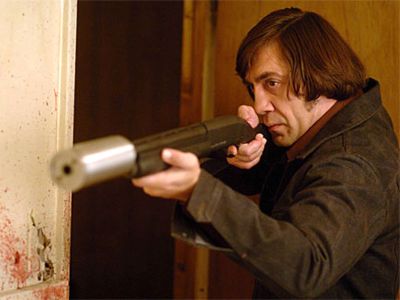 Acclaimed Spanish actor
Javier Bardem
, who landed the plum role of Chigurh, the killer who embodies the sinister heart of the borderlands drug world, was not familiar with the book until he had read the script, which instantly grabbed him. "I thought it was a very powerful story about violence and about how to control and stop the huge wave of violence that the world is living through right now," he says of the adaptation.
I'm looking for No Country For Old Men.