Academy Award winner ("Last King of Scotland") Forest Whitaker teams up with Keanu Reeves in the upcoming police thriller "Street Kings." Whitaker plays Captain Wander, Ludlow's (Reeves) supervisor whose duties include keeping him within the confines of the law.

In the movie, Tom Ludlow (Keanu Reeves) is a Los Angeles cop who has spent his life never having had to reach across the abyss from his world to the other. Ludlow's life, however, becomes cheerless, dark, and deadly, after the death of his beloved wife. Ludlow is pressed into action when he is framed for the murder of his partner.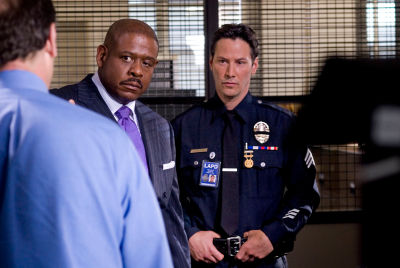 Q: What role do you play in the movie (Street Kings)?A:
It's about police corruption in Los Angeles. I play the head of sort of the crime family of the police. I'm the cop who runs all of that and Keanu plays my enforcer. It's about him sort of his eyes opening up to what it is that I've had him doing for the last number of years as I've sort of protected him and groomed him and moved him along. It's a very intense piece. I really like the movie. It's a really powerful movie.
Q: Is it based on the Rampart scandal?
(One of the most celebrated scandal in U.S. history, the Rampart Scandal refers to widespread corruption in the Community Resources Against Street Hoodlums (C.R.A.S.H.) anti-gang unit of the LAPD Rampart Division in the late 1990s. Officers in the CRASH unit were implicated in offenses which includes unprovoked shootings, unprovoked beatings, planting of evidence, framing of suspects, stealing and dealing narcotics, bank robbery, perjury, and covering up evidence of these activities.)
A:
Somewhat. It definitely is like the sort of Rampart type police.
Q: Did you get help from the LAPD on that?A:
There were advisors who had left the force who were working on the movie.
Q: Why did they leave the force exactly?A:
It wasn't because of corruption. Some of them were like life-time cops and stuff that were working—really strong with Keanu too just to give their advise and talk to you about it and they even show you pictures. Sometimes there were cops that would actually show us pictures of them doing really brutal things actually to like people they were interrogating and stuff. It's like they had almost like trophies for themselves.
Recently seen in the taut thriller "Vantage Point," Whitaker's exceptional list of film credits include "Made In America," "The Air I Breathe," "Even Money," "The Great Debaters," "The Ripple Effect," "Phone Booth," "Phenomenon," "Species," "Blown Away," "Body Snatchers," "Consenting Adults," "The Crying Game," "Platoon" and "The Color of Money."
"Street Kings" opens April 16 in theaters nationwide from 20th Century Fox to be distributed by Warner Bros.
I'm looking for Street Kings.