From the classic favorite book "Horton Hears A Who" by Dr. Seuss comes the CGI family-event "Horton" starring Jim Carrey as the voice of Horton the elephant.

Horton is not like any elephant we've seen before. He is bigger than life in many ways beyond bulk; he has a big heart, big personality, and a big sense of fun. Horton shines through kindness, trustworthiness and perseverance. Despite formidable adversity, ridicule, condemnation and threats, Horton's resolve to bring Who-ville to safety, remains steadfast. He's always faithful…100 percent.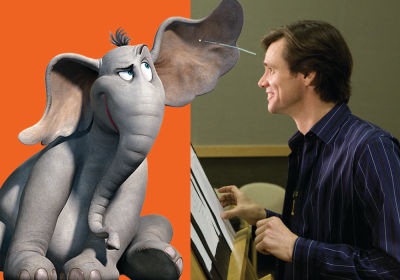 According to the filmmakers,
Jim Carrey
brings far more than his superstar comedy talents to the role of Horton. "Jim has a warmth and humor that's amazing, and which kept Horton that sweet, lovable character we know from the books," says Jimmy Hayward. "He's a passionate, creative force and really owned the character.
"Jim really puts his entire face into everything he does," Hayward continues. "He acts out every take just as he would if he were actually before the cameras. He gave us some great eye acting references, so we got an extraordinary amount of subtle Horton stuff out of Jim from his voice performance."
Given Carrey's full-throttle expressiveness, it comes as no surprise that he influenced Horton's look. Says lead animator Dave Torres: "In early design stages, Horton had a smaller mouth. But when Jim came aboard, the character became very expressive; in fact, Jim led us to really push the boundaries of expressiveness for an animated character."
Endeavoring to fully capture the wondrous and wildly imaginative worlds of Dr. Seuss, the filmmakers push the animation and rigging beyond the traditional boundaries of animation physics and character performance and believability. They employ "squash-and-stretch" techniques to push Horton and the Mayor to extreme looks and movements. In traditional 2-D animation, squash-and-stretch gives characters elasticity and movement. But Hayward, Martino and the Blue Sky artists, animators and technicians take the technique to a new level.
Perhaps no scene better demonstrates the effectiveness of their squash-and-stretch techniques than when Horton – clover in tow – attempts to cross a long, rickety bamboo bridge overhanging on a deep gorge. At the same time, the Mayor is visiting the dentist, who is about to use a giant hypodermic needle on the Mayor. Hayward and Martino intercut the two hyper-precarious situations, creating an intricately constructed scene of cause-and-effect. Every Horton action (or stumble) has an equal (or equally crazy) reaction on the Mayor.
In the sequence, the filmmakers employ squash-and-stretch to inflate Horton's trunk – the ten-thousand-pound elephant (and eternal optimist), thinking air to be "lighter" than anything, believes he can float across the bridge like a dirigible. As Horton, inflated trunk and all, continues to stumble, leaving broken pieces of the bridge behind every step, the dentist's hypodermic ends up in the Mayor's arm instead of his mouth. The filmmakers again seize the opportunity to push the animation, stretching the mayor's injected arm 30-feet-long. As the Mayor flees the office, his newly-elongated and flaccid limb accidentally smacks a few people across the face.
Hayward credits Jim Carrey with coming up with the idea for the situation: "Jim asked, 'If an elephant was carrying your world around on a speck, where would be the worst place for the Mayor to be?'" remembers Hayward. "After suggesting something to do with power tools, Jim asked, 'What if the Mayor was at the dentist – who's wielding a hypodermic?'"
Jim Carrey knew by age 3 that show business was in his blood. At age 15, Carrey took off for Toronto to perform at Yuk Yuks, the famous comedy club before moving to Los Angeles. After touring and performing with the comedy legend Rodney Dangerfield, Carrey was cast in "Duck Factory" by NBC. After only 13 weeks, Carrey's work in "Duck Factory" left a lasting impression in Hollywood. He eventually landed the lead role in the feature film "Once Bitten" and followed it up with roles in "Peggy Sue Got Married" and "Earth Girls Are Easy."
After successful seasons on "In Living Color," Carrey branched out again into feature films with lead roles in "Ace Ventura: Pet Detective." His no-holds-barred portrayal of Ace Ventura made him an instant sensation and made the film a hit. Carrey's other film hits include "Bruce Almighty," "Fun With Dick and Jane," "Me, Myself and Irene," "The Mask," "Dumb and Dumber," "Batman forever," "Ace Ventura: When Nature Calls," "The Cable Guy" and "Liar, Liar."
Carrey also won as Best Actor in the Golden Globe (1999 and 2000) for his portrayal of Andy Kauffman in the film "Man on the Moon" and "The Truman Show."
"Horton" opens March 22 in theaters nationwide from 20th Century Fox to be distributed by Warner Bros.
I'm looking for Horton.