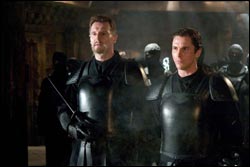 Liam Neeson once studied to become a teacher, but he soon switched to drama.
This year, he has found a way to combine both talents.
The Irish-born actor, 52--who previously mentored Ewan McGregor's Obi-Wan Kenobi and trained Jake Lloyd's Anakin Skywalker in "Star Wars: Episode I – The Phantom Menace," and taught Orlando Bloom's Balian how to hold a sword before striking in "Kingdom of Heaven"--now puts his tutoring skills to good use as a mentor figure in Warner Bros.' new action-adventure, "Batman Begins."
In this newest retelling of the Dark Knight's tale, Neeson dons a goatee as the mysterious Henri Ducard, who trains Christian Bale's fledgling Caped Crusader in the ways of the ninja and helps him deal with his rage after the murder of his parents.
"We were looking for someone to play a mentor that the audience would immediately warm to and see as trustworthy," says director Christopher Nolan ("Memento," "Insomnia"). "The baggage Liam carries is very useful. He presents a seductive quality that is very important in bringing Bruce Wayne into his point of view."
Neeson once again displays his swordsmanship as well. "We chucked a weapon in his hand and threw him and Christian together on a frozen lake," Nolan says.
The actor declined to be interviewed. However, his fans aren't shy about sharing their thoughts about why Neeson is the go-to mentor of the moment.
"He likes characters who are noble and hardworking and honest," says Stephanie Morosi, 29, of Ladson, S.C., who operates the fan site allaboutliamneeson.com. "He can cause a villain to fear him just by looking at him. He has children (sons Daniel, 8, and Micheal, 9), so he knows how to be a father figure."
And, she says, although Neeson has always looked more mature than his years, he is enough of a realist to know what roles suit him best.
As Morosi puts it, "He is getting up there in age, so he can't play the hero anymore, or he will look as silly as Bruce Willis did in `Tears of the Sun.'"
Neeson's next role, however, could be as one of America's greatest heroes: Abraham Lincoln in a yet-untitled Steven Spielberg film.
That means he will be able to mentor an entire country.
Opening worldwide on June 15 including the Philippines, "Batman Begins" is distributed by Warner Bros. Pictures, a Warner Entertainment Company.