Maverick director Tim Burton ("Planet of the Apes," "Batman") takes the award-winning musical sensation "Sweeney Todd" and reinvents it into an edgy, compelling, dramatic thriller starring perennial collaborator Johnny Depp.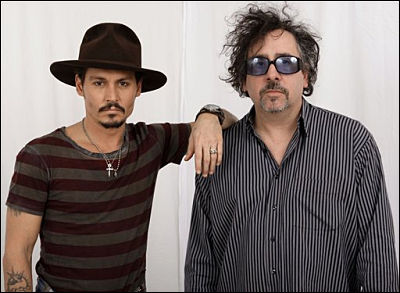 "There's always a possibility it might upset the purists because it's not the show, and there are numbers that are not in it," muses Burton. "A movie like this is a strange gamble because it's an R-rated musical, it's got blood in it and people that go to Broadway shows don't usually go to see slasher films and people who see slasher films don't usually go to Broadway shows."
For fans of the original musical, "Sweeney Todd" composer Stephen Sondheim does acknowledge that some material was cut. But, he adds, "I urge them as much as possible to leave their memory of the stage show outside the door, because unlike all other movies of stage musicals that I know, this really is an attempt to take the material and completely transform it into a movie. The nice thing about 'Sweeney Todd' is that this is not a movie of the stage show. This is a movie based on the stage show."
"Tim is the perfect director for 'Sweeney Todd,'" says producer Richard D. Zanuck. "There is such an affinity between the subject matter and Tim's style and sensibility. He is a stylist but also at his heart he's a dramatist who just wants to tell a simple, human love story."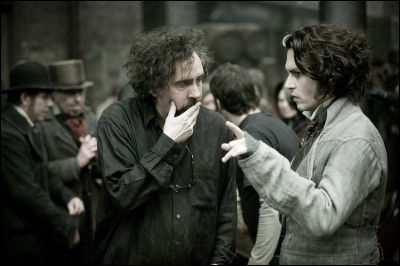 "He's a perfect fit," says Sondheim of Burton. "In many ways it's his simplest film, his most direct film, but you can see that he's telling a story he really likes. It's a story that has enough incident in it so he doesn't have to invent extracurricular stuff. He has enthusiasm for the piece and he just goes straight for the jugular."
"Sweeney Todd" marks Depp and Burton's sixth film together, after "Edward Scissorhands," "Ed Wood," "Sleepy Hollow," "Charlie and the Chocolate Factory" and "Corpse Bride." "They are like any good team with almost an unspoken way of doing things, and can practically read each other's minds," says Zanuck. "Johnny looks to Tim for guidance and Tim looks to Johnny for taking what he has outlined and pushing it a little further. They really love each other and would do anything for each other. It's a deep friendship, and they're both lovely people, fun to work with and hard-working. And they're both at the top of their game. So the combination is wonderful in terms of freshness and inventiveness."
"Every time Johnny and I work together we try to do something different – and singing for a whole movie is not something we're used to," says Burton. "You never just want to feel like, 'Okay, that was easy. What's next?' Johnny and I always want to stretch ourselves, and this was a perfect outlet for that."
Opening soon across the Philippines, "Sweeney Todd" is distributed by Warner Bros. Pictures, a Warner Bros. Entertainment Company.
I'm looking for Sweeney Todd.