The ClickTheCity Guide to The 33rd Metro Manila Film Festival
posted on

Fri, 21 Dec 2007 12:00 AM
It's that time of year again. The
33rd Metro Manila Film Festival
will bring nine films to our theaters this holiday season, with six opening on December 25 and another three opening on January 1. Which film is for you? Here's a quick rundown of all the films:
OPENING DECEMBER 25th:
BAHAY KUBO
Directed by Joel Lamangan, written by Suzette Doctolero and R.J. Nuevas
The Gist:
A poor family moves up in the world, and finds it's not all that it's cracked up to be.
What to Expect:
The subtitle for this film is "A Pinoy Mano Po," so it's a spiritual successor to that previous line of films, even though the plot and the general feel are all pretty different. This movie will probably be packed with family drama, which will give the fabulous Ms. Soriano lots of material to do what she does best. Expect lots of family values and dripping sentiment.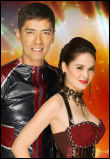 ENTENG KABISOTE 4
Directed by Tony Y. Reyes
The Gist:
The story of how Enteng Kabisote found his love.
What to Expect:
This is already the fourth installment of the popular
Enteng Kabisote
series, and you can probably expect more of the same. Expect the same blend of humor and adventure that's been present in the previous films. In the tradition of sequels, this will be bigger, brighter, louder, and generally grander. Also, expect Joey de Leon dressed as a mermaid.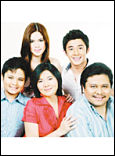 KATAS NG SAUDI
Directed by Jose Javier Reyes
The Gist:
An OFW returns from Saudi, and finds that going back to family life isn't as easy as it seems.
What to Expect:
Jose Javier Reyes seems to be taking a very classic approach to this comedy/drama. This isn't the first film to explore the difficulties of being an OFW, but this film takes a refreshing down-to-earth approach that keeps it away from sensationalized storytelling. It feels like a pretty simple story that unfolds into some solid drama. Expect a lot of Jinggoy emoting.
RESIKLO
Written and directed by Mark A. Reyes
The Gist:
Invasion survivors combat aliens using junkyard robots.
What to Expect:
Imus Productions is really dead-set on creating a big, Hollywood style blockbuster, and this film the culmination of all its efforts. This is a big-budget extravaganza, and it really shows in the special effects. Mark A. Reyes has a very solid storytelling sense, and that'll probably shine through, as well. Expect Bong Revilla inside a giant robot.
SAKAL, SAKALI, SAKLOLO
Directed by Jose Javier Reyes
The Gist:
A newly-married couple rises to the challenges associated with becoming parents.
What to Expect:
There is a general consensus (despite the controversy) that
Kasal, Kasali, Kasalo
was the best film of last year's filmfest, and it's hard to imagine that they'll stray far from the formula. This film will probably continue that brand of quality, featuring the continuation of the story of these characters, with the same sense of humor permeated throughout. Like last year, expect some funny family conflict.
SHAKE, RATTLE AND ROLL 9
Directed by Paul Daza, Topel Lee, and Mike Tuviera
The Gist:
It's the ninth installment of the long-running horror anthology series.
What to Expect:
This series of anthology films has generally been pretty solid. If nothing else, it's a pretty good showcase for what some of the country's younger filmmakers are capable of. There isn't a whole lot left to say about it, really. Most everyone has seen at least one
Shake, Rattle and Roll
by now, and know what to expect. In this one, though, expect a Christmas tree monster.
OPENING JANUARY 1st:

ANAK NG KUMANDER
Directed by Jose Balagtas, written by Rod Santiago
The Gist:
An outlaw fights corruption using his own unique brand of justice.
What to Expect:
Manny Pacquiao has set out to make the definitive old-school Filipino action flick. One look at the trailer tells you everything you need to know: an anti-hero who carries a big gun, sexy girls shooting guns, shootouts in the jungle, and bad guys who wear hats (who also shoot guns). And all of it is done without a drop of irony. If you're into that, this is going to be glorious. Expect lots and lots of firearms.

BANAL
Directed by Cesar Apolinario
The Gist:
Two cops in a SWAT unit go up against each other over issues of integrity.
What to Expect:
Banal
is attempting to be a very gritty crime drama akin to last year's
The Departed
. It has a pretty complex plot that features betrayals, plenty of plot twists, and a plot to assassinate the Pope. It also has Christopher de Leon in it as a tough-as-nails Sergeant who leads the SWAT team. That may be worth the price of admission alone. Expect a scowling Christopher de Leon blowing stuff up.
DESPERADAS
Directed by Joel Lamangan, written by Roy C. Iglesias
The Gist:
Four women deal with the struggles of being modern women in love.
What to Expect:
Based on the trailer,
Desperadas
looks like it's trying to be a Filipino
Sex and the City
. Four women with very different lives and personalities all deal with the ups and downs of getting older and falling in love in modern society. There's a greater sense of goofiness about it, though. This film is most notable for being the first film Ruffa Gutierrez has done in twelve years. Expect men in Speedos.