Cartoon Network Theatre Christmas Treat
posted on

Fri, 14 Dec 2007 12:00 AM
Hi Toonheads!!!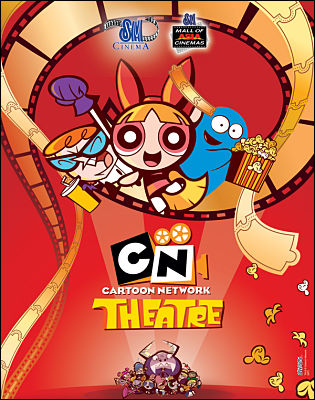 Catch Cartoon Network Theatre featured movies at select SM Cinemas on these dates:
December 15-24
The Powerpuff Girls: "T'was The Fight Before Christmas"
Princess Morebucks, a rich spoiled brat who's willing to spend every cent of her father's money to become one of the Powerpuff Girls, is annoyed when she learns that everyone thinks she deserves to be on Santa's "Naughty" list. She sets out for the North Pole, where she discovers that she is the only person whom Santa has deemed "Naughty."
But Princess dupes Santa into thinking she's the only nice girl in the entire world, and proudly boasts about her nefarious deed to the Powerpuff Girls, who chase her all the way to the North Pole to try to warn Santa before a Christmas morning without presents brings heartbreak for all the good girls.
Cartoon Network Christmas Special: "Cartoon Network Christmas 3"
Camp Lazlo "Snow Beans"
The Beans Scouts and the Squirrel Scouts go skiing, and Lazlo and Lumpus discover that the mountain isn't big enough for the both of them.
Grim Adventures of Billy and Mandy "Billy & Mandy Save Christmas"
Billy, Mandy and the Grim Reaper must save Christmas when Vampires threaten the North Pole in the holiday adventure Billy & Mandy Save Christmas
Foster's Home for Imaginary friends "Store Wars"
It's Madame Foster's birthday! But when Frankie tries to take a simple trip to the mall, Bloo and the gang tag along and become the caregiver's worst nightmare.
Ed Edd n' Eddy "In Like Ed"
Kevin knows too much. Eddy is convinced he must be a spy. Ed, Edd, and Eddy set up an "agency" to track Kevin's movements. The Eds soon realize that everybody knows more than they do. Eddy vows to foil Kevin's sinister plan, if they could only find out what it is.
Codename: Kids Next Door: "Operation "N.A.U.G.H.T.Y.
When the North Pole is attacked and Santa's gift giving device (the R.E.I.N.D.E.E.R. 4000) is stolen, all clues point to the KND. Now, Numbuhs One through Five must defend themselves against an elite squad of super-powered elves while trying to discover who set them up before every Christmas present in the world is turned into coal!
Ben 10: "Exclusive Sneak Preview"
"Midnight Madness"
When the Rustbucket breaks down outside the largest mall in the U.S., it seems Ben and Gwen will have the time of their lives in the mall. That is until they run into an evil hypnotist entertaining the crowd, who puts Ben under hypnosis, causing him to sleepwalk at night and help him steal things. And when the hypnotist discovers certain "aliens" are now helping him, he exploits them for his grand plan of hypnotizing hundreds of people so they'll be under his demented control forever. Ben must figure out how to break the spell he's under and stop this evil plan.
"Game Over"
When Ben, as Upgrade, and Gwen get zapped into a Sumo Slammers video game, Ben soon has to deal with Gwen's superior gaming skills, while he also tries to impress his video icon in the game. Ben finally realizes the only person he has to prove anything to is himself. Able to finally go Upgrade again, Ben uses the alien's full potential to defeat the game's shape-shifting uber-villain, allowing he and Gwen to escape back into the real world.
"Merry Christmas"
When the Rustbucket's a/c goes on the fritz in the middle of the desert, Ben, Max and Gwen take refuge at Holiday Village, an over the top Christmas theme park that seems to appear out of nowhere. It turns out the place is run by an evil entity known as Mr. Jingles, who takes Max prisoner, because he believes Max is Santa! It's up to Ben and Gwen to free Max, and break the spell Mr. Jingles has cast on Holiday Village, freeing others who've been trapped their for years and releasing the theme park from its "Brigadoon" like existence.
And here's an added treat!!!
A VERY SPECIAL CHRISTMAS TREAT PROMO
Watch Cartoon Network and get a chance to win any of the following:
1ST PRIZE: 2 winners of a Limited Edition Cartoon Network DVD Player
2ND PRIZE: 5 winners of a Cartoon Network Messenger Bag & Cartoon Network DVD
3RD PRIZE: 5 winners of a Cartoon Network Party lights
CONSOLATION PRIZES: 50 winners of a Cartoon Network Special Goodie Bag each containing:
- Cartoon Network sticker sheet
- Cartoon Network mini puzzle set
- Cartoon Network activity book & crayon
- Cartoon Network inflatable ball
- Cartoon Network pencil set
And there's more!!!
- Get a FREE face paint (in SM Megamall) or a glitter tattoo (in SM Mall of Asia) for every ticket purchased!
- Double your discount when you watch the Cartoon Network Theatre featured movie for SM Advantage (SMAC) and SM BDO (Junior Savers Club) Card holders .
- Plus, get an SM Storyland Ride Certificate when you buy 3 tickets (available in SM Fairview, SM Southmall, & SM San Lazaro only)
Come join the fun as you watch Cartoon Network Theatre featured movies at the following branches:
1. SM Manila
2. SM City North Edsa
3. SM Megamall
4. SM Mall of Asia
5. SM Sta. Mesa
6. SM Southmall
7. SM Fairview
8. SM San Lazaro
9. SM Pampanga
10. SM Clark
11. SM Cebu
12. SM Davao
Hurry!
Go to your nearest SM Cinema branch and enjoy a full- dose of fun and laughter as you watch these Cartoon Network Theatre featured movies!