Drama, Romance | R-18 | 2 hrs 20 min
UIP-Columbia Pictures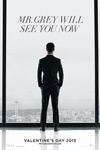 Fifty Shades of Grey is about a college student named Anastasia Steele (Dakota Johnson). She fills in for her roommate in an interview with billionaire Christian Grey (Jamie Dornan). There is an instant spark between the shy Anastasia and the intense, confident Mr. Grey. Christian makes his interest known, but there is a darker side to his desires. He is not interested in love or romance. He is only interested in a relationship where Anastasia submits herself to him. The inexperienced Anastasia explores her limits, and must decide if she's willing to conform to his demands.
The film is really all about making this one decision. Everything that happens along the way is just buildup to the fateful choice that the main character has to make. A relationship with Christian means that Anastasia has to stay at his place on weekends, and that she must satisfy his kinks, which involve handcuffs, floggers, inflicting punishment, and the general need to have control over her. Much of the film is dedicated to the talk of negotiation, of Anastasia wavering and Christian swooping in to show her just how much he wants to have her.
And so a pattern emerges: Anastasia is infatuated with Christian, but is turned off by what he wants her to do. And then he shows up (at times exhibiting stalkerish behavior) and makes some grand gesture that wins her back. There is a trace of something interesting in how the woman is seemingly granted the agency in this relationship, except so much of the supposed romance in the story is still based on Christian showing up uninvited, flaunting his wealth and expecting her to swoon at his ability to occasionally act like a decent human being.
There just isn't a lot that happens in between scenes of the two main characters having sex. Of course, it is easily argued that the film is supposed to be about the sex, and that everything else is secondary. But the sex isn't very good, either. This is a matter of taste, of course, but the limits of mainstream filmmaking have rendered much of it pretty tame. The film always errs on the side of tasteful, never really delving into anything too kinky or too risqué. It lacks the sense of danger and transgression that really defines the genre of erotic fiction.
And it should probably be mentioned that the local cut will sometimes blur or black out some of the stuff on screen. Mostly, it blacks out what is locally known as "pumping." I feel that the distributors jumped the gun, as the MTRCB has let through plenty of local movies that have featured more revealing content. Regardless, it mostly makes the film look pretty ugly at points. It doesn't really get in the way of anything important. Dakota Johnson is the best thing about this film; her performance elevating what on paper feels like a really thin character. Much is conveyed through her facial expressions and her body language, the acting transcending what is written. Jamie Dornan does not look happy playing this role, struggling through some of the more absurd lines of dialogue.
Fifty Shades of Grey is not a terrible movie. It's mostly just boring. The sex is tame and censored and the story in between all the sex really isn't much to write about. The relationship between the two is defined by this negotiation, and there's little in the way of compelling emotional content. But the film is glossy and mostly watchable, and Dakota Johnson is talented. There are bits of smart filmmaking, where the camera dials in on the small bits of body language that translate into desire. But the film is also very long, and it just isn't worth the trip.
My Rating:


Related Content
More from ClickTheCity
Editors' Picks
1