Joining Ray Winstone
in the title role and
Angelina Jolie
as a mysterious seductress in Warner Bros.' new epic fantasy "
Beowulf
" are seasoned actors in pivotal roles: Academy Award® winner Anthony Hopkins as the cursed King Hrothgar, John Malkovich as the naysayer Unferth, Robin Wright Penn as the lovely, hapless Queen Wealthow and Crispin Glover as the monster Grendel.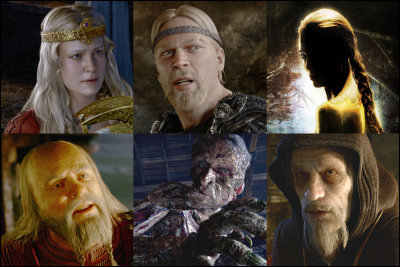 Anthony Hopkins notes that the performance-capture technique coupled with director Robert Zemeckis' directing style made for an open, laid-back atmosphere that aided the creative process. "What's interesting about this way of acting – with no sets, no costumes, just these silly suits with dots all over your face, is that you can do the whole scene and it goes very quickly because you don't have to break it up the way you do on a conventional film.
Hopkins' King Hrothgar harbors a secret past that comes back to haunt him and his kingdom, in the form of the monster Grendel. Until Grendel's horrifying appearance, however, Hrothgar leads a charmed life and enjoys it; he and his people are profligate and celebratory, partaking in sensual pursuits and pleasures whenever they can.
"I thought, well, Hrothgar is a man of his people and at the beginning of the film I play him as a candid kind of drunken buffoon, which was fun. I also found some darker elements to him and went for those – played another level of him," Hopkins explains.
Robin Wright Penn's Wealthow marries King Hrothgar at a very young age, but he is unfaithful. The actress explains, "Wealthow later falls in love with Beowulf when he comes to save them and, sadly, the pattern repeats itself. In way, she falls in love with the hero and becomes blind to what true heroism is. Beowulf is a hero but, ultimately, he is a human being and when he betrays her – just as the king did, she loses the love and admiration she had for him."
For his part, Crispin Glover didn't play Grendel as just a monster, he created a character who was helpless and tormented but who also happened to be a physical monstrosity, someone who was persecuted and literally demonized because of what he looked like. Zemeckis admires, "Crispin brought a tremendous warmth and humanity to this unbelievable, hideous creature. The only note of direction I gave him was that everything Grendel does causes him physical pain. Crispin took that bit of direction and ran with it. He used his entire body – every cell, every strand of hair – as an instrument when he performed."
Finally, John Malkovich put such a spin on Unferth and completely understood what Zemeckis wanted from the nemesis of Beowulf, the naysayer who debunks our hero and accuses him of exaggeration. "When John got his hands on that and the accent – I can't even describe it, but it was just the most magnificent interpretation of the character."
Opening across the Philippines on Nov. 14, "Beowulf" is distributed by Warner Bros. Pictures, a Warner Entertainment Company. Concurrent with the film's run in conventional theatres nationwide, "Beowulf" will also be shown at the IMAX Theater entirely in the 3-D format.
I'm looking for Beowulf.