With diverse roles in such films as "The Rundown," "Be Cool" and "The Scorpion King,"
Dwayne `The Rock' Johnson
has forged a reputation as today's consummate leading man. But now, with Walt Disney Pictures' family comedy "
The Game Plan
," everything's about to change. He's now ready to show his full range by turning from dead serious and invincible to funny and fallible in the role of a hotshot quarterback who thinks his life as the ultimate rich, tough and successful bachelor is completely perfect until he suddenly has to tackle one major obstacle: fatherhood.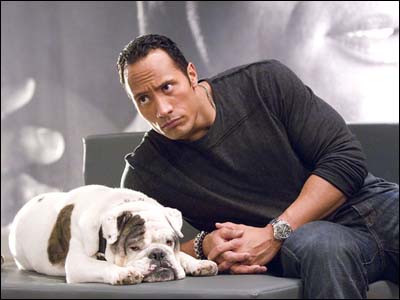 No. 1 in the U.S. box-office charts for two consecutive weeks, "The Game Plan" is about rugged superstar quarterback Joe Kingman's (Johnson), whose team The Rebels is chasing an elusive championship. A 'serial bachelor,' Kingman is living the ultimate fantasy: he's rich, famous and the life of the party. But this dream is suddenly sacked for a loss when he discovers the 7-year-old daughter (newcomer Madison Pettis) he never knew he had -- the product of a last fling before parting years ago with his young wife. Now, during the most important time in his career, he must figure out how to juggle his parties, practices and dates with the newfound ballet classes, bedtime stories and dolls that come with his daughter.
From the minute he first heard the concept for "The Game Plan," Johnson was thrilled to face a challenge unlike any he had taken on in filmmaking before. "When you have the chance to create a character like this from the ground up, that's a lot of fun," he says. "Having had the opportunity to play football for 10 years, I knew I would be able to bring some of that swagger to Joe as well as some of the invaluable lessons from the game that I've taken with me through life."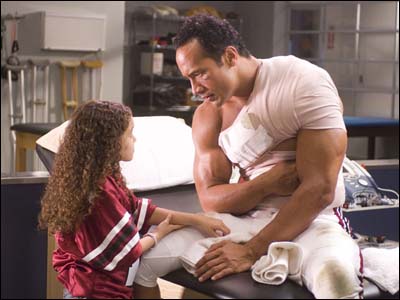 Joe might appear to have it all, Johnson notes, because he's got the hot women, the big money and the adoring fans, but he's still missing something major. "Joe is one of the guys who, from the minute he was born, was destined to be a great quarterback," he points out. "He's worked hard for everything he's gotten, but at the same time, I think he's never quite understood the value of certain things, of what it means to be part of a team, to do things for other people—and it takes a little girl to show him what is really important in life."
Johnson relished the chance to show off his comic chops. He especially enjoyed allowing this tough, confident man's awkwardness and terror in the face of parenting shine through. "For Joe, being a father requires a whole new playbook," he laughs.
While Johnson went on a limb with the character's humor, he also notes that playing Joe was about revealing the moment of a man's unexpected transformation. "Joe may be a Hall of Fame quarterback, but he's been by himself for a very long time," sums up Johnson. "His only real friends are Spike the Bulldog and the end zone. But when this little 8-year-old girl comes along who calls him Daddy, it changes him in ways he never thought imaginable. How many times do you get the chance to win the championship game and get the girl…only this time you get to win the love of your little daughter who means the world to you? Joe discovers just how lucky he really is."

Opening soon across the Philippines, "The Game Plan" is distributed by Buena Vista International through Columbia Pictures.

I'm looking for The Game Plan.