While
Dwayne `The Rock' Johnson
was on board with Walt Disney Pictures' new family comedy "
The Game Plan
" from the very beginning, the filmmakers faced a daunting task: how to find an irresistibly cute and sweet little girl who could also evoke the same sassiness, spunk and toughness of spirit as her on-screen dad?
An extensive nationwide search led them to 7-year-old
Madison Pettis
of Arlington, Texas. A complete newcomer to moviemaking, Madison won the role of Joe's daughter, Peyton, in impressive auditions which demonstrated some real spunk along with her sweetness. Explains director Andy Fickman: "When we screen-tested Madison with Dwayne, we all could see it. The very first time they interacted, Dwayne looked over at me with this face that said, 'Wow…watch out for this one!'"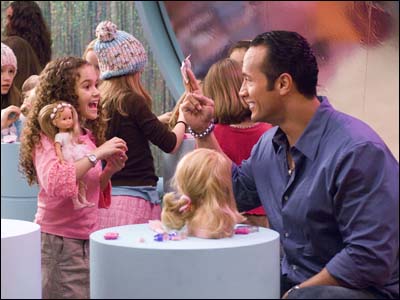 No. 1 in the U.S. box-office for two consecutive weeks, "The Game Plan" is about rugged superstar quarterback Joe Kingman's (Johnson), whose team The Rebels is chasing an elusive championship. A 'serial bachelor,' Kingman is living the ultimate fantasy: he's rich, famous and the life of the party. But this dream is suddenly sacked for a loss when he discovers the 7-year-old daughter (Pettis) he never knew he had -- the product of a last fling before parting years ago with his young wife. Now, during the most important time in his career, he must figure out how to juggle his parties, practices and dates with the newfound ballet classes, bedtime stories and dolls that come with his daughter.
"Madison really embraced the emotional complexity of Peyton," Fickman continues. "After all, Peyton isn't just a Shirley Temple ragamuffin—she has plotted a major con and she has to pull it off. At the same time, Peyton is also going through a lot of hurt as well as hope in trying to discover a new father. I started out with my own ideas about Peyton, but Madison educated me every day on how much more the character of Peyton could be."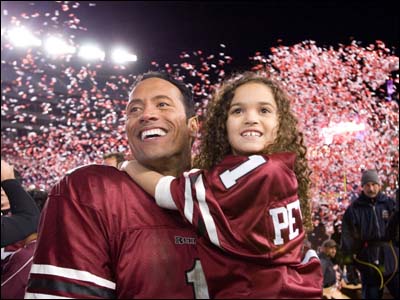 The producers also knew they had lightning in a bottle once Pettis was cast. "Madison not only has a brilliant energy, but she even looks a bit like we thought Joe's daughter would," says producer Gordon Gray. She also had a rare comic sensibility for someone so young. "Madison is so smart and funny that we continually laughed at what came out of her mouth. Once the cameras rolled, the chemistry between Dwayne and Madison just grew and grew," Gray adds.
Madison also managed not to be intimidated by her hulk of a co-star. "Dwayne was just so nice to me," she says of working side by side with "The Rock." "The very first day we started shooting, he brought me doughnuts and told me that we were just going to have so much fun doing the movie. That meant a lot to me!"

But most of all, Madison loved being the one who changes Joe Kingman for the better. "Joe really is kind of a jerk at the beginning, and he doesn't even know it," she observes. "But Peyton shows him what it's like to be nice. And, in the end, she realizes her dream of finding her father, too!"

Opening soon across the Philippines, "The Game Plan" is distributed by Buena Vista International through Columbia Pictures.

I'm looking for The Game Plan.