Dwayne "The Rock" Johnso
n is about to meet his greatest match—and she's about four feet tall.
Emanating a unique screen presence that combines his undeniable charm and self-deprecating humor, The Rock further establishes himself as the consummate leading man and one of today's surprisingly new masters of movie comedy with his role as superstar quarterback Joe Kingman in Walt Disney Pictures family comedy "
The Game Plan
."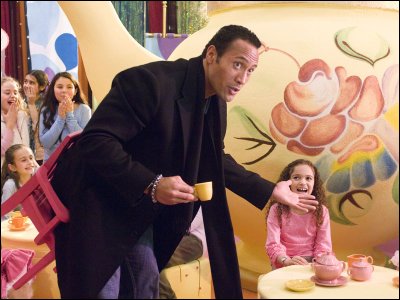 Sure, Joe's known as one of the toughest players to ever take the field. Blessed with amazing strength and agility, he's famed for being able to handle any hit, no matter how ferocious. But, just when he doesn't see it coming, Joe is about to be knocked silly by the hardest-hitting challenge he could ever have imagined: an 8-year-old girl.
In this hilarious and heartwarming fish-out-of-water tale, The Rock gets a chance to showcase his unexpectedly funny, not to mention fatherly, side, while still mixing it up in scenes of fast-paced football action, as the last guy you'd ever expect to find a way to become a great new dad.
It all begins as Kingman's Boston-based pro football team, The Rebels, is chasing their long-awaited championship. As their victorious quarterback, Joe has been living the ultimate bachelor fantasy: he's cool, rich, famous and the life of every party—and there are a lot of parties. But his dream is suddenly sacked for a loss when he discovers Peyton (Disney Channel star Madison Pettis), the daughter he never knew existed, on his doorstep.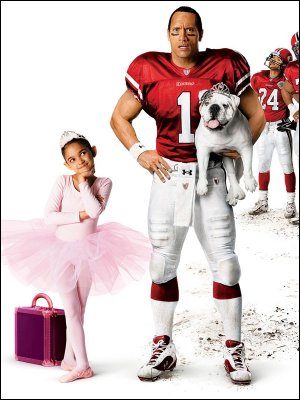 Now, just as his career is soaring, Joe must learn to juggle his old lifestyle of parties, practices and dates with supermodels while tackling the new challenges of ballet, bedtime stories and baby dolls—all without fumbling. Equally perplexed is his hard-edged mega-agent, Stella Peck (Kyra Sedgwick), herself without a parental bone in her body. But, as the championship grows nearer, Joe is about to realize that the game that truly matters has nothing to do with money, endorsements or even touchdowns—it's all about the really tough stuff: patience, teamwork, selflessness…and winning the heart of the one little fan who turns out to count the most.
Opening soon across the Philippines, "The Game Plan" is distributed by Buena Vista International through Columbia Pictures.
I'm looking for The Game Plan.