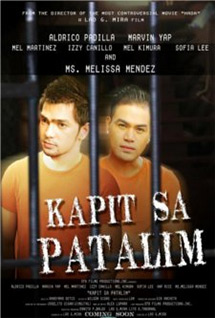 Kapit sa Patalim seems to have points to make: some vague idea about the violence being perpetrated against the homosexuals of the country, and how desperation can drive men into extreme situations. It isn't very clear. The movie is so badly put together that whatever trace of message it might have is drowned out. This is a thoroughly terrible picture that doesn't even have the decency to be short. It lingers on its lack of quality, drowning the audience in its prolonged awfulness.

Rico (Aldrico Padilla) moved to the city to help take care of his nephew and his mother. His ne'er-do-well brother Bart (Marvin Yap) is always in trouble, and doesn't seem too concerned with becoming a better person. While Rico tries to live an honest life, Bart continues to be a terrible person, luring in gay men only to rip them off. Soon enough, both brothers are driven into desperate situations, forcing the both of them to consider other ways of doing things.

The movie runs over two hours long, but not for any good reason. The film just meanders in its scenes, refusing to move on even when there really isn't anything left to say. A lot of the scenes are completely redundant. There are a bunch of scenes, for example, that feature Bart stealing from people. There's no escalation or anything. It's basically the same scene played several times in different contexts, driving home the very mundane point that Bart is not a nice guy.

It gets tiresome really quickly. Despite the length, the movie is terribly short on plot. Nothing really happens for the entire first hour, the movie mostly repeating the point that Bart is bad and Rico is good. It does so in a shrill manner as well, with no subtlety or nuance whatsoever. It goes so overboard with its depiction of their polarity that it becomes comedic. The movie just doesn't seem to have any understanding of how things work in real life. It makes attempts to be dramatic, but it's all too dumb to be taken seriously.

The production values are awful as well. The editing is incoherent, though that might be blamed on the weakness of the footage. Shots are regularly out of focus, and there's no real shot continuity to speak of. The sound is subpar as well, with levels constantly fluctuating and background noise occasionally drowning out the dialogue. The score also seems to feature uncredited recordings. The acting is as shrill as the rest of the movie, the actors screaming through their scenes.

The end bit of Kapit sa Patalim features a twist that manages to be both nonsensical and predictable. In a more reasonable movie, one where the characters actually resemble human beings, this twist would have come out of nowhere. But for this movie, it's just par for the course. It isn't even really worth getting clever about. It's just awful, plain and simple. No words are really needed beyond those.
My Rating: