Foster Child at Cinemalaya 2007
posted on

Wed, 11 Jul 2007 12:00 AM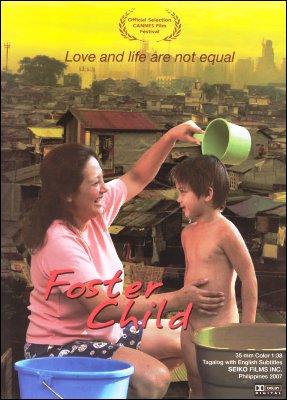 Cinemalaya 2007
opens with the highly acclaimed film
Foster Child
by
Brillante Mendoza
, on July 20, 6:15pm at the
Cultural Center of the Philippines (CCP) Tanghalang Nicanor Abelardo (Main Theater)
. Produced by Seiko Films Inc., Foster Child stars Cherry Pie Picache, Eugene Domingo, Jiro Manio, Alwyn Uytingco, Dan Alvaro and Kier Segundo. Cinemalaya 2007 runs until July 29.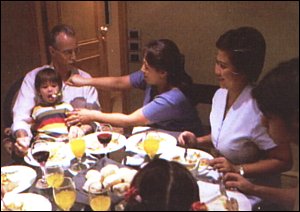 The film, which drew raves at the recent Cannes Film Festival's Directors' Fortnight, is about an urban poor family composed of Thelma, her husband Dado and teenage sons Gerald and Yuri, hired by a local Foster Care Facility to provide temporary home and care to abandoned babies pending the latter's formal adoption. The inevitable separation is always a heart-rending event to the foster family.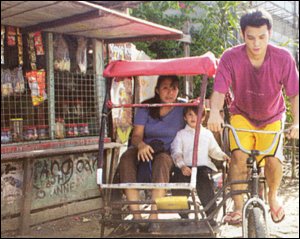 "Foster Child like my early films have a personal affinity with me," says director Brillante Mendoza, being an adoptive father himself of a little girl. "Its pre-production till the actual shoot was instinctive. I feel I've become a more loving father, having been given a chance to peek into the real lives of foster parents, foster children and adoptive parents as well." Mendoza is credited for megging other famous flicks such as Masahista (2005), Manoro (2006), and Kaleldo (2006).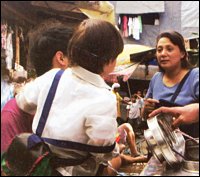 Cinemalaya 2007 will feature a total of 120 films (all original works in digital format) in 209 screenings. Nine films will compete in the full length feature category, and ten films will compete in the short film category. The Cinemalaya 2007 Film Congress, also a major part of the Festival, will be held on July 24-25, 9AM to 5PM, at the CCP Tanghalang Aurelio Tolentino. Now on its third year, Cinemalaya is a competitive film festival that aims to discover, encourage and honor the cinematic works of Filipino filmmakers and seeks to invigorate the Philippine film industry by developing a new breed of Filipino filmmakers. It is held in two categories, short and full length. Cinemalaya opens with a performance event featuring the dancers of Ballet Philippines, and the soundscape of a live DJ. Playing the iconic 'spirits' of Cinemalaya, the body painted dancers lay eggs on installations depicting the urban wasteland. Conceived and directed by Chris Millado.
Ticket prices are P100 (regular screening of competition and exhibition films), P300 (a Daily Pass valid for one person and good for 5 screenings), and P950 (a Festival Pass valid from July 20-29 for all screenings). Cinemalaya Congress Fees are set at P500 package (2 days); P300 a day (non-students) and P250 a day for students. Discounts of 50% for students and 20% for senior citizens will be available. Group discounts of 50% will be offered to teachers. Discounts will also be given on bulk ticket sales.
For more information, please call the CCP Media Arts Division at tel. no. 832-1125 local 1704-05 or visit the CCP website at www.culturalcenter.gov.ph
I'm looking for Foster Child.