Drama, Romance | G | 1 hr 40 min
Star Cinema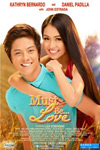 Must Be…Love probably had little ambition beyond properly launching the film careers of its two young stars. It is likely that the film was constructed to be even more inoffensive and formulaic than usual, testing the economic waters for the young actors, hoping to turn them into box office draws. But something intriguing slipped through anyway. Behind the mainstream gloss of the pictures lies a surprisingly deep question of identity, mired with a toxic outlook on beauty. The film is more problematic than it probably set out to be.
Patchot and Ivan (Kathryn Bernardo and Daniel Padilla) have been best friends since they were kids. Now, as teens, tomboyish Patchot has a "slow-mo" moment with Ivan, and inadvertently declares her love for him. She passes this off as a goof, and tries hard to just bury the moment. But when her cousin Angel (Liza Soberano) catches the attention of Ivan, she suddenly realizes just how much she wants to be with him.
What follows is part sweet, and part noxious. The film is most interesting when it fleshes out the world around the characters. They aren't simply empty vessels forced into each other in a vacuum. There is a context to their romance, an environment and a history that made them the way they are. Patchot is a child of a broken family, and her tomboy nature is a product of a father's broken heart. Ivan doesn't quite get the same depth, but there's something interesting about how the film has him coming from a broken family, too.
The film is weirdly pragmatic in that way, juxtaposing this young romance against a history of failed loves. Teenage romance can feel awfully fluffy, but the film imbues the central relationship with emotion weightier than puppy attraction. The most affecting part of the movie has Patchot confronting her father about the identity that he has foisted on her, the young girl begging for leeway to discover who she really is. This is a surprisingly sophisticated take on the whole makeover conceit. While other films have settled on the idea that kids should just be themselves, this film bothers to ask whether kids actually know who they are to begin with.
It is tragic, however, that this side of the story is inherently tied to a really shallow exploration of beauty. Too much emphasis is given to Patchot's physical transformation, as if her beauty could only have been realized through cosmetics. In its most noxious moment, the film has the young woman applying a whitening product, and subsequently being told that she's blooming and becoming more beautiful. This false and ugly standard of beauty has no place in a story about a young woman seeking her identity. It is downright awful.
These competing impulses meet in the middle of an otherwise formulaic love story. The filmmaking is snappy and solid, and though the dialogue strains under its insistence on a particular kind of trendy language, it gets the point across. Kathryn Bernardo has a tendency to overplay some of her scenes, but she gets it right when it counts. She shares decent chemistry with Daniel Padilla, who isn't much for dramatics, but reacts well enough to his scenes partners.
Must Be...Love is a tough movie to rate. Ratings are terribly arbitrary to begin with, but numbers are increasingly inadequate for movies that can inspire mixed emotions. There is merit in the themes the movie manages to explore. Behind the cutesy façade of teen romance lies an actual theme worth exploring. It questions the simplistic truism that people just ought to be themselves, pointing out quite fairly that young people probably don't even really know who they are, and that a large part of their identities come from external influences. That's kind of brilliant. But it's completely abhorrent to me that the film would adhere to such a small-minded and ultimately harmful perception of beauty. If the goal was only to provide a bare stage upon which these two young stars could shine, then the movie does accomplish that goal with some panache. But it sends out an extra message that is difficult to accept.
My Rating:


Related Content
More from ClickTheCity
Editors' Picks
1