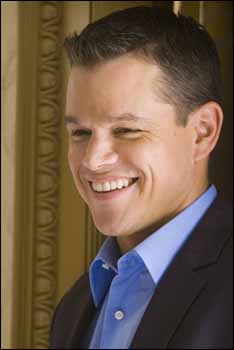 Most recently seen in a critically applauded performance in the Oscar-winning Best Picture "
The Departed
,"
Matt Damon
takes a breather from serious drama to reprise his comedic character of the overly earnest Linus Caldwell in Warner Bros.' "
Ocean's Thirteen
," the much-awaited third installment of the highly successful series.
In the film, Danny Ocean (George Clooney) and the gang would have only one reason to pull off their most ambitious and risky casino heist—to defend one of their own. When ruthless casino owner Willy Bank (Al Pacino) double-crosses one of the original Ocean's eleven—Reuben Tishkoff (Elliott Gould)—Danny and the gang team up one more time to see if they can break "the Bank."
Linus Caldwell has been eager to take a more active role in the planning and execution of each heist. In "Ocean's Thirteen" he finally gets his chance. He also gets the girl, but this romance is all part of the plan.
Sporting what Damon describes as "a ridiculous prosthetic nose for no real reason," Linus arrives at The Bank in the guise of Lenny Pepperidge, the "mouthpiece" for a mega-rich Asian real estate mogul, who is actually none other than the gang's resident Chinese acrobat, Yen. While passing Yen off as a super high roller who is ready to risk up to $10 million at The Bank casino, Linus is angling for—and gets—the undivided attention of Abigail Sponder, Willy Bank's right-hand woman.
"I finally got the love interest in one of these movies," Damon says, admitting that his character gets a little help generating "chemistry" with Ms. Sponder, played by Ellen Barkin. "Linus is given these ultra-powerful pheromones, which act as an aphrodisiac to maximize her attraction to him. The plan is for her to get him into the Diamond Room."
The Diamond Room is where Bank keeps his collection of Tiffany & Co. diamond necklaces for his wife—one necklace of five perfect diamonds for each of the Five Diamond Awards his hotels have earned. Worth an estimated $250 million, the necklaces are secured behind two-inch thick concussion-proof glass, wired with pressure-sensitive seven digit coded alarms in an impenetrable room at the top of The Bank. Once in the room, Linus has to keep Ms. Sponder distracted long enough to switch the diamond necklaces for worthless fakes.