He first impressed global audiences by playing Tom Cruise's rebellious son in "War of the Worlds." Now, Justin Chatwin plays the central character, Nick, in Touchstone Pictures' new supernatural thriller, "The Invisible." Nick is a bright young man who seems to have it all – looks, brains, money, grades and girlfriends – yet is still feeling lost and is just about to give up on himself. He only begins to realize what his life is worth through the transformational experience of what it is to be dead.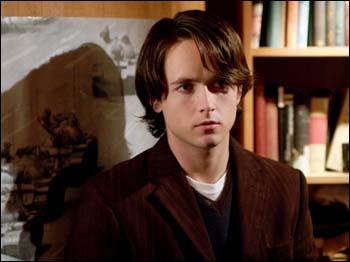 Because the character spends so much of the film in the limbo between the living and the dead, and thus invisible to the rest of the characters, writer-director David Goyer ("Batman Begins," "Blade: Trinity") knew he would need to find an actor daring enough to try something different and charismatic enough to bring an emotional charge even to non-verbal scenes. After meeting with Chatwin, Goyer was convinced he had everything it would take, from his boyish charm to his strong work ethic, to do the role justice. "Justin has a look, a personality and an attitude that absolutely pops on the screen," observes Goyer. "The camera just loves him. It's a tough task to play a character who has to react to everything happening around him without playing off of the other actors or having them be able react to him."
For his part, Chatwin was instantly drawn to the role's depth and complexity, which gave him a lot to chew on as he prepared for his performance. "What I loved about the script is that it's about all these polar opposites – life and death, love and hate – and also about the idea that when you think something is black or white, you might suddenly find that there's gray to it. It also is very realistic about youth and adults and the lines that separate the two," he says.
As for playing a character who is literally invisible, Chatwin could at first relate on the most basic level. "I think a lot of kids growing up feel invisible to the world around them," he says. But as he got deeper into it he found the experience of operating in the world as a ghost even more profound. "It put me in a realm where I was constantly asking myself questions like 'who am I?' and 'what am I?' so I got to explore those questions the same as my character does," he explains. "It was definitely hard and sometimes frustrating to play a part where no one is talking to you or even looking at you – but it was a really interesting challenge."
Chatwin was already a fan of Goyer's "Blade" and "Batman Begins," so that became another draw for the young star. "One of the things I was really looking forward to was working with David Goyer, because I already knew he had such great visual talent. Anyone who could bring a fantasy idea like Batman to life I knew would be able to take this story and really make audiences believe in it," he comments.
Opening soon across the Philippines, "The Invisible" is distributed by Buena Vista International through Columbia Pictures.