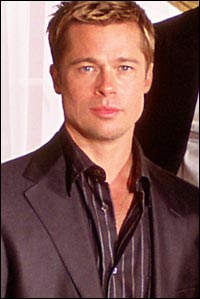 Once a thief, always a thief. This cliché couldn't be truer for Brad Pitt who plays back-to-back thief characters in his two upcoming films, both from Warner Bros. – "Ocean's Thirteen" and "The Assassination of Jesse James By the Coward Robert Ford."
In "Ocean's Thirteen," Pitt plays Danny Ocean's (George Clooney) most trusted ally, Rusty Ryan the tactician —the man who knows how to turn plans into actions. An inveterate thief, Rusty is right in the middle of another delicate robbery when he gets the call from Danny about their friend Reuben Tishkoff (Elliott Gould) who was recently double-crossed by the ruthless casino owner, Willy Bank (Al Pacino). Without hesitation, he abandons the prize and jets to Las Vegas.
Rusty is worried about Reuben and is as keen to go after Bank as the rest of Ocean's crew, but he supports the decision to offer Bank a Billy Martin, their slang term for a second chance. Like Danny, he knows that's the rule. But when Bank rejects the offer, he's as anxious to bring down The Bank as the others.
Brad Pitt comments, "The message here is if someone screws over one of them, he screws over all of them."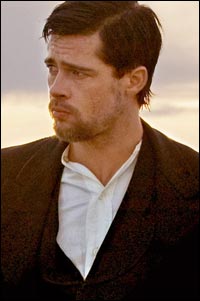 Much like the actors who play them, Danny Ocean's gang had gone their separate ways after their last heist. But if there is one thing that would always have the power to bring them together again, it is saving one of their own. "I have always embraced the idea that these guys are thieves and con men," director Steven Soderbergh acknowledges, "but they're not entirely driven by money. Certainly, in this case, they are driven by friendship and revenge. The 'all for one and one for all' ethos dictates that when one of them is betrayed—especially in the way that their friend Reuben was betrayed—it's payback time. It seemed like a strong premise."
The themes of friendship and trust also permeate "The Assassination of Jesse James by the Coward Robert Ford" as the film delves into the private life and public exploits of America's most notorious outlaw. As the charismatic and unpredictable Jesse James (Pitt) plans his next great robbery, he wages war on his enemies, who are trying to collect the reward money - and the glory - riding on his capture. But the greatest threat to his life may ultimately come from those he trusts the most.
Both distributed by Warner Bros. Pictures, "Ocean's Thirteen" opens across the Philippines this June, to be followed by "The Assassination of Jesse James by the Coward Robert Ford" on October.