Movie Review for Bwakaw
No Hurry
posted on

Wed, 5 Sep 2012 12:00 AM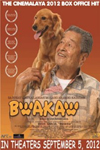 Bwakaw
is in no hurry. It confidently ambles through its narrative, making sure to smell the flowers along the way. It is a markedly different film than we've ever seen from its writer/director Jun Lana. And it largely triumphs because of it.
Bwakaw
is a heartfelt little story told simply, and though it might benefit from some trimming, its dedication to its story and its characters makes it rise above most films that make it into our theaters.
Rene (Eddie Garcia) is an old gay man who only came out of the closet later in life. Cranky and anti-social, he spends most of his time preparing for his death, making arrangements and rewriting his will. Rene's only companion is a stray dog that he cares that he's named Bwakaw. Though Rene doesn't seem to show much affection for the dog, he is still greatly affected when Bwakaw falls ill and is diagnosed with cancer. As Rene cares for his ailing companion, he befriends a tricycle driver (Rez Cortez) with whom he once had a contentious relationship. The new friendship draws Rene out of his shell, and for once, he looks forward to something other than death.
Bwakaw
takes its sweet time getting to where it wants to go. It lingers in moments, fleshing out the loneliness of the main character by spending time with the silence that often surrounds him. The story unfolds slowly, conforming to the rhythms of the life in the provinces. It's really quite lovely. The movie meanders through the details of Rene's life, slowly establishing all of the characters and their relationships, forming a remarkably vivid portrait of his existence before heading into the meat of the story. It really invests in the setting and the characters, and it largely pays off for the movie.
Having said that, the film does at times feel bloated. Glacially paced as it is, it might have benefited from the exclusion of a couple of its subplots. Still, the movie still functions well as a whole, living off a keenly observed depiction of a life lived in regret. The film allows itself the room to really take in the feelings of this character, with restrained, subtle filmmaking leaving just enough to the audiences. The scenes largely speak for themselves, the direction getting out of the way of the film's sublime writing.
Anchoring the entire project is a stellar performance by the great Eddie Garcia. Garcia doesn't cling to any of the easy stereotypes, and instead builds his character organically. He makes the history of the character felt from moment to moment, the way he carries himself indicative of the life he had once lived. It's an amazingly strong performance from an actor who has nothing left to prove. Rez Cortez plays things beautifully as well, his performance playing up a sweet obliviousness that's endlessly endearing. The cast as a whole works pretty well together, developing a real sense of community between the members.
Bwakaw
is exactly the kind of film that makes me glad that the Cinemalaya Director's Showcase exists. Jun Lana's work in the mainstream has largely been underwhelming given his talent. Here, freed from the shackles of industry demands, he delivers a delightful, graceful little tale on a subject that rarely gets explored in our cinema. And he does with real grace, with little concern for formula or whatever's supposedly popular with audiences in any given month.
Bwakaw
runs a bit long, but it feels wholly sincere. There's a lot of talent on display here, but the film's astonishing heart is what makes it worth everyone's time.
My Rating: